Foggy is doing well surviving the winter on the hard. We didn't get any crazy cold days this winter but we did get more than usual snowfalls and some stormy windy days. Went out to check and do some measurements for our next project.
It was a cold but sunny day and we figured this could possibly be our last chance to visit the boat before the COVID-19 social distancing rules become more rigid. It was a good time for a visit, I had the whole yard to myself. Timing was lucky, two days later the yard was shut down to visitors.
Sad to see Foggy all bare and left alone for so long. We are anxious for the season to start, but now uncertain when that will be. She looked good, there were only a few minor issues:
The VC17 antifoulant still is in great shape, but grubby. We are still planning on washing, lightly sanding and putting a fresh coat on this year.
One of the canvas tabs on the cover tore off and I found one of the sandbags on the ground. Not too surprised, the canvas seems to be holding up well but the threads are all starting to deteriorate. Lori did some patching and reinforcing of the stitches on the rear of the cover last fall. Looks like these tabs will need to be done this year.
The velcro opened up at one of the seams, not a big deal, I just pushed it back together. Next year we will use a sandbag to hold the two tabs on either side together.
The patches above the winch and binnacle held up really well. Nice job Lori!
Inside, everything looked great. No signs of moisture leaking in.
Explored the bilge, cupboards and all the portlights. Everything looked dry and good.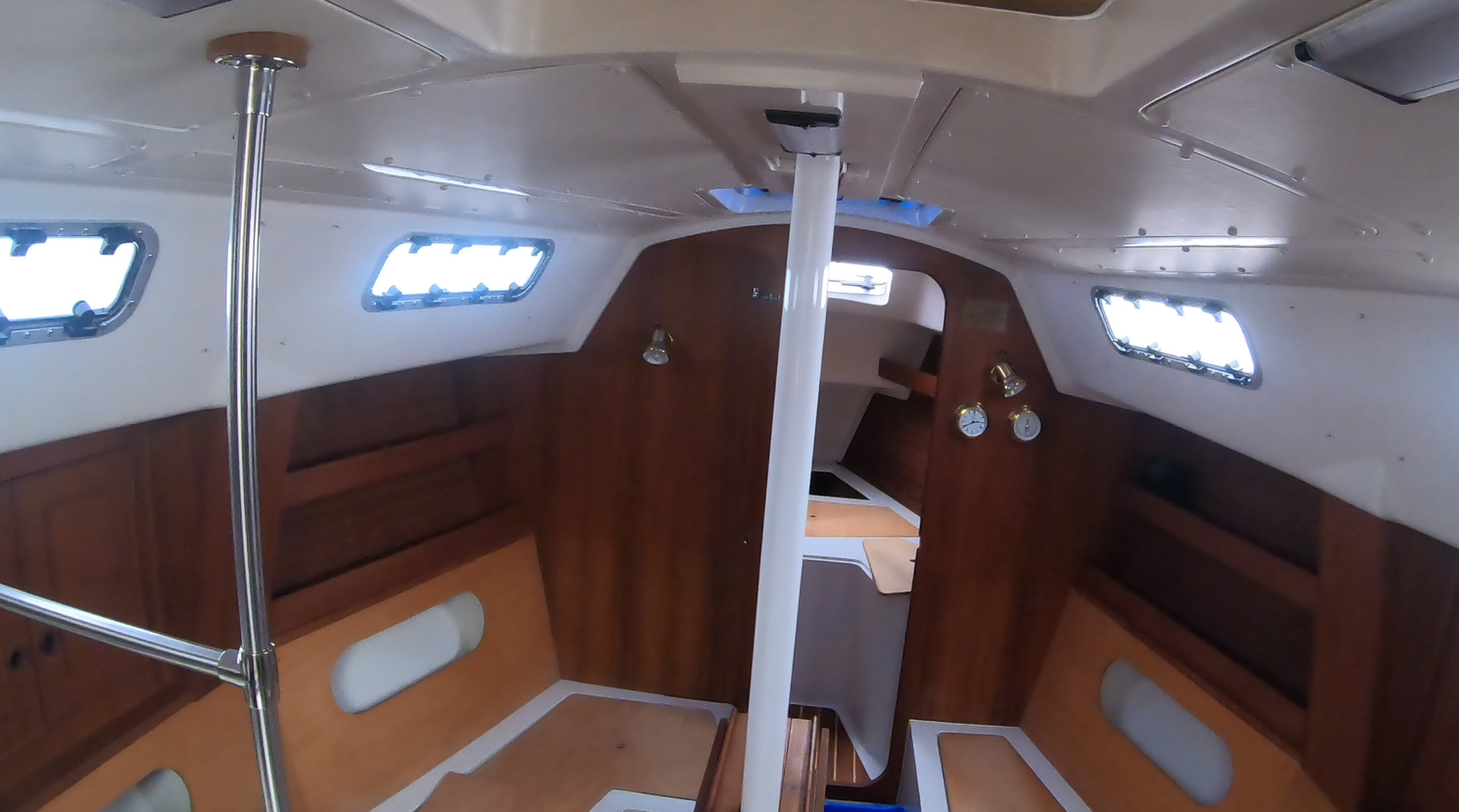 This year is electrical year
Following our plan of only focusing on one system a year, this year is our electrical year. Up to now we've had a basic understanding, but most of it is still magic to us. There's a lot to learn. Starting with these.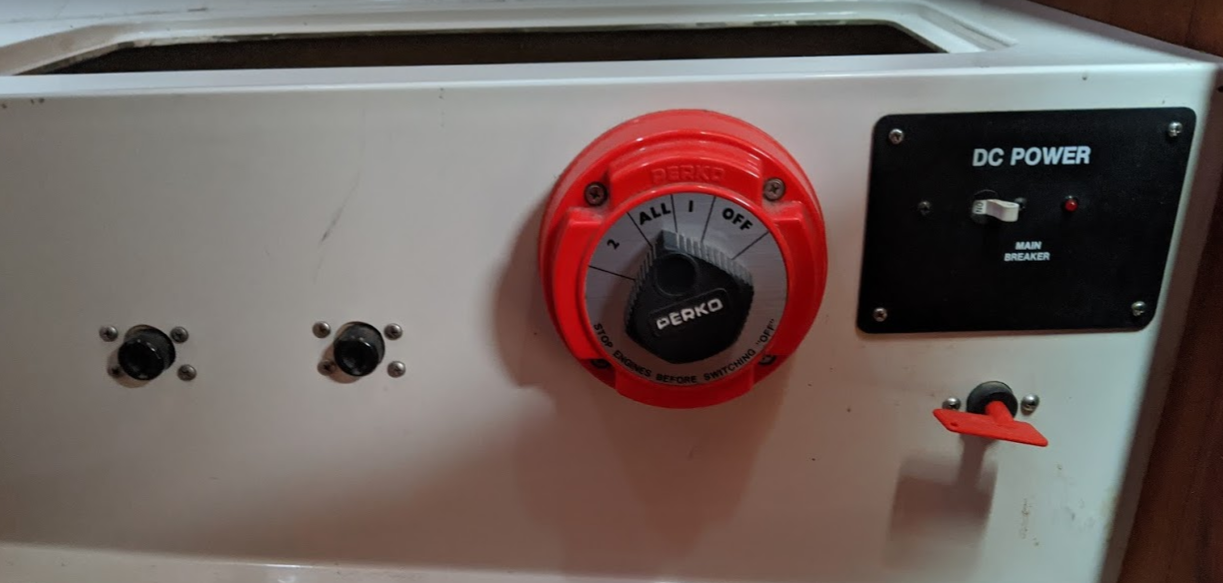 I need to figure out what the heck all of these do (batteries are all removed right now, so not worried I have it set to All). I have instructions from the previous owner what to set these to for starting and using the house batteries. But don't know how/when to use the other two switches on the left. There is also a separate switch where the batteries sit for turning the fridge on and off. I'm assuming it allows me to choose and isolate what batteries to use, but not sure why there's a redundancy with the rotary switch. I'm going to map all these out and create my own electrical diagram of the boat.
The next big part of the project is is figuring out where to mount a solar panel above the Atkins & Hoyle davits. We've decided on a single 300 watt hard panel. So I started taking measurements.
The plan is to put one or two 1″ stainless tubes across the top of the davits, connecting them together and then reinforcing the davits with a a connection back to the hull or to the stern rail.
This location will give us the ability to pivot the panel fore/aft but we have some concern of clearance above our heads when we want to use the swim platform. It's still in planning, so we'll get it sorted out and I'll of course document our journey to solar in separate articles.
Time to go home
It was a short visit, but it was cold and I wanted to maintain my distance from anyone else who may show up at anytime. I was glad to see Foggy was safely surviving the winter and can now go home and review all the photos and videos I took of the electrical system to try and figure it all out.
I struggled closing up the rear zippers, the cover is pretty tight and it was cold and frozen. I then pulled a bit too hard and the thread gave away on the zipper. I don't think this was one of the ones Lori patched yet. We are thinking of changing this to more of a shoelace type closure that will have a bit more give.
Sad to see Foggy's neighbour, Nancita, like this. She's probably had some great adventures but now has been left alone and somewhat forgotten. A little concerned she may roll over but she's far enough away to not cause any damage to Foggy.