CS34 Sailboat
The CS 34 is a small 33ft 6in/10.2m recreational keel boat first produced in 1989 by Canadian Sailcraft (CS Yachts). It was an innovate sailboat at that time and one of the last models created by CS Yachts. Built in Brampton, Ontario. CS Yachts closed in 1992.
The CS 34 sailboat is based off the MG 355 design by Tony Castro, offered for sale by Northshore Yachts in the UK. The CS 34 is mostly based on the MG 355 but has a taller mast, with masthead rig, higher displacement and a different window design.
Overall length: 33 ft 6 in (10.2 metres)
Waterline length: 27 ft 8 in (8.4 metres)
Beam: 11 ft 3 in (3.4 metres)
Mast bridge clearance: 43 ft 0 in (13.1 metres)
Displacement: 10,500 lbs (4,800 kg)
Shoal keel draft salt water: 4 ft 6 in (1.4 metres)
Shoal keel draft fresh water: 5 ft 0 in (1.5 metres)

Fresh water tanks: 2 x 30 gallons (227 litres)
Fuel tank: 30 gallons (113 litres)
Holding tank: 20 gallons (75 litres)

I: 43.0 ft
J: 13.5 ft
P: 37.4 ft
E: 13.0 ft

Universal M4-30 engine: 25 hp
Universal M3-20 engine: 18 hp
Yanmar 2GM20: 18 hp
For a sailboat of this time and size it has some interesting features and innovations:
Sugar scoop transom
Two separate cabins
Separate shower
6′ 3″ interior headroom
Heated wet locker
Horseshoe shaped galley
Plenty of ventilation through fourteen opening ports and hatches
Deck line cover to hide and protect lines leading aft to cockpit
Fiberglass re-enforced plastic (FRP) construction of the hull, deck and cabin superstructure. One-piece shell with a drop in FRP inner liner, which forms a lower structural grid. Tabbed in transverse plywood bulkheads complete the hull structure.
Hull is solid to the waterline and then balsa cored to the toe rail.
Hull protected with CS Yachts latest osmosis protection system (polyvinyl resin under gelcoat, four coats of epoxy over gelcoat before antifoulant applied)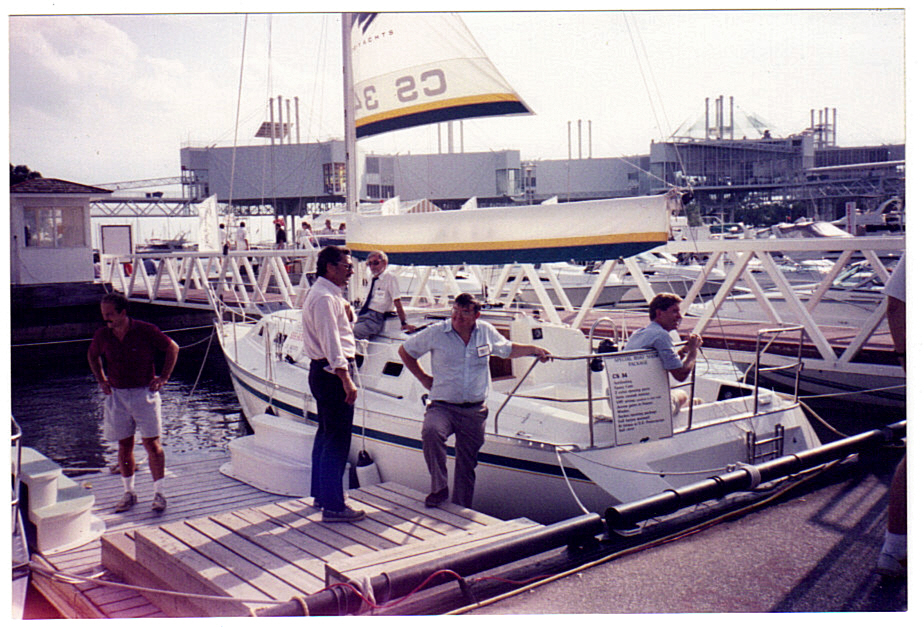 CS34 launch at the Toronto Boat Show in 1989
Photos used with permission from yatescustomrigging.com. Thank you Wilson!
Approximately 64 CS34 sailboats were built by CS Yachts, hull numbers range between 8220 and 8284.
Original CS34 Standard Options
Welded stainless stemhead roller
Anchor well
Alloy toerail with mid-deck fairlead
Two fore-hatches
Teak or stainless handrails on coachroof
Plexiglass mainhatch
Coachroof traveller with control lines
Ergonomically designed cockpit
Wheel steering (42″ wheel) with brake, guard and pedestal mounted engine controls
Emergency tiller
Two Lewmar 43AST primary winches
Two Lewmar 30AST halyard/secondary winches
Two genoa foot blocks
Six coachroof Spinlocks
Two inboard genoa tracks with one car on each track
Double spreader, deck stepped mast with internal electrical conduit and boom
1/19 S/S wire standing rigging
Boom vang
Single line reefing on boom
Halyards led after under covers to cockpit
Forward, amidship and aft fairleads with fore and aft mooring cleats
Two cockpit lockers
Double rail, bow pulpit and stern pushpit with access to swim platform
Pedestal mounted compass with light
Swim platform with ladder
Upper and lower lifelines
Binned lockers under forepeak
Seven berths in three cabins
6'4″ headroom
5″ berth cushions
Teak and ash cabin sole
Two burner Force Ten propane stove with oven
Double custom deep sinks in galley
Two ice boxes, galley and under chart table
Waste basket
Teak chart table
Red night lighting
Aft marine head with holding tank
Separate shower stall
Hold and cold pressurized water systems
Hot water supplied by 110 volt and engine heat exchanger
Two hanging lockers
Wet locker
Side opening ports for ventilation
Racor water/fuel separator
Twin batteries (one engine, one "house") with isolator, switch, distribution panel
Electric bilge pump
Manual bilge pump
29 gallon fuel tank
Two 30 gallon water tanks
Balsa sandwich in topsides and deck
Ball valves on all underwater through-hull fittings
110 volt shore power with 10 amp charger
Boot-top and shear stripe
Combination steaming and deck light
5 year limited warranty on hull
Wire drop-board holder
2 propane bottle wells with overboard drain
Engine can either be a 25hp Universal or 17hp Yanmar.
CS34 Owners Manual
The CS34 was one of the last sailboats produced by Canadian Sailcraft (CS). Unfortunately there never was a user manual produced for the CS34 Sailboat. This page will provide you with some information about the boat. I'm always looking for assistance, if you have information on the CS34 Sailboat you think would be useful to share with others, please send to me and I will format and post it here for everyone.
Feel free to add a comment to request additional info, I like researching this info and have a few contacts that know a lot about these boats.
Online Resources
CSOA Groups.io – online message system with close to a thousand members with 20,000+ messages specific to CS yachts going back to the year 2000.
CS Yacht Owners Association – some great information, best resource is the people who participate in the mailing list server (yahoo)
CS Yacht Owners West – limited information
Holland Marine – still has many CS parts available for sale
RigRite.com – provides detailed information on all the parts found on the mast and boom. See my separate post CS34 Mast and Boom for details.
Cruisers Forum – not focused on CS sailboats, but lots of great information.
Things we have figured out
Other CS34 Sailboats found
I've compiled a list along with prices here:
Other CS34 Sailboats
Additional sailboat information collected