With a sad and heavy heart we had to recently say goodbye to my father-in-law, Frank Mosienko (aka Grumpy Gramps or Crankie Frankie). He passed away on January 18, 2020.
He was always an inspiration and supportive of our boating adventures. Last year he brought his boat out to travel with us to Trent Port Marina and Belleville.
He earned his grumpy nickname for good reason. He was a civil engineer and former geodetic surveyor, which brought a strong opinion on how things had to be done. If you borrowed a tool, it had to go back to the exact same cataloged spot it came from. If things weren't done as he expected, you'd hear a bunch of choice words. Or if you accidentally left a light on after you left the room you would hear turn off the frickin' light! And don't even think of touching the thermostat!
Frank's crankiness escalated the moment he got behind the wheel. If you didn't open the van door using the right sequence of button presses he would be hollering to stop pressing buttons until he resets it. Later he would let me drive and would provide constant "advice" from the passenger seat.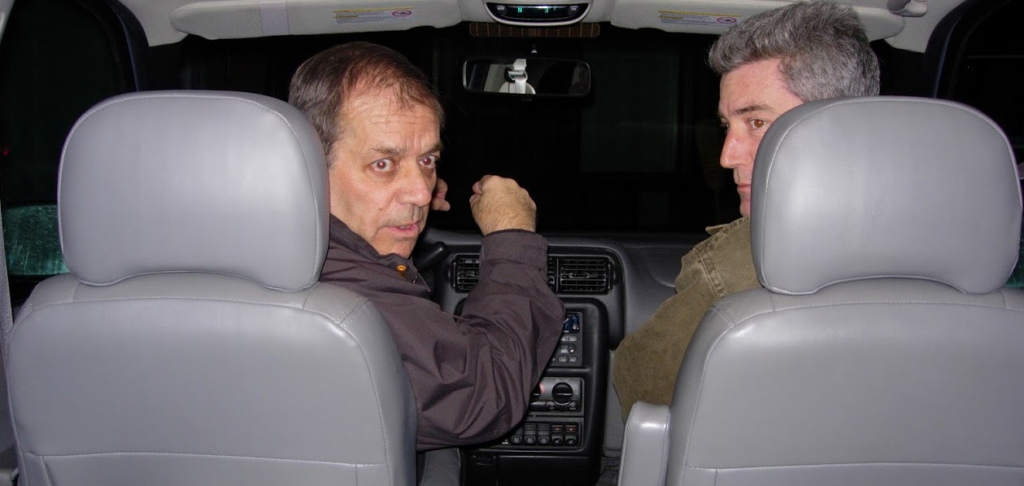 Frank knew his nicknames and openly supported and encouraged it whenever he could.
If you briefly met him or overheard one of his tirades you would have quickly come to the wrong conclusion. He'd probably look at you like this, say something like, "What the hell do you want?", then smile, invite you on the boat, offer you a beer and then quickly have you laughing and sharing stories.
This prickly exterior was a false image of the true man Frank was… soft, loving, generous and goofy.
This grumpy cranky man wouldn't think twice about helping out anyone or anything. Ask his daughters about the many animals he's saved and how much he's paid to bring them back to health. For Frank, family was his biggest priority. Both him and his wife, Marj, created the warmest most welcoming environment in their home. It didn't matter when or how many people showed up on the doorstep they would always be welcome.
Frank was always ready for adventure. He loved the outdoors, camping, boating and driving across Canada (he's done this numerous times).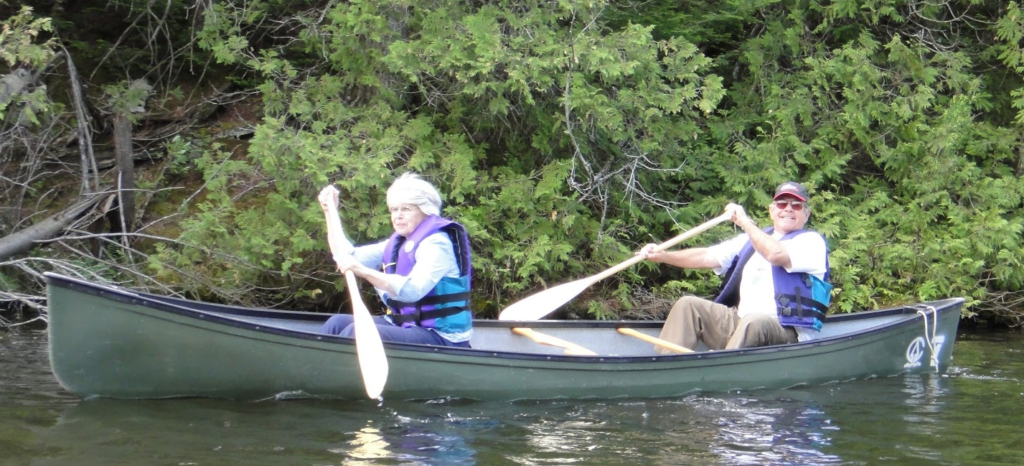 And he never passed up the chance for a goofy photo op.
This skill has been successfully passed down to all of the grand kids.
It was the love for family and the importance of having fun in everything you do that always made him great to be around.
He was a truly remarkable man that has had a great influence on me and many others. Left behind to carry on as many Frankisms as we can, here is an almost complete photo of Frank's kids and grand kids (missing a few: Jazz, Michio, Alex, Miguel, Kym, Nate). We all love and miss you Frank!
We all wish you fair winds and following seas

your loving family
The family put together an amazing tribute to Frank Mosienko, you can see the original here on Tubman's website, I've copied and pasted below.
Affectionately known as Cranky Frankie and Grumpy Gramps, Francis (Frank) Warner Andrew Mosienko left us on January 18, 2020. Those who knew Frank won't be surprised to learn that he did not go peacefully, and his family sends its sincere apologies to the Paramedics, who joined Frank in his final fight, for his profanities.
Frank leaves behind his beloved wife Marjorie Mosienko (nee Donald), with whom he shared over 62 years.
He was the proud, but often perplexed, father of his four daughters: Heather (Glen), Holly (Tim, Lannie, etc.), Dawn (Marc) and Lori (Shane).
He was the cherished Grampa of Erikka (Luc), Jordie (Nate), Alex (Miguel), Ryan (Kym), Brihana (Riley), Hannah (Alec), Jazmin (Michio), Natalee (TBD), Gavin and Owen and Great-Grampa of Rain, Luna and Mads.
His siblings, Delores and Nick, were showered with Frank's love and protection, and he was an admired brother-in-law and uncle to many.
Frank was predeceased by his parents, Margaret and Nick Mosienko, and brother-in-law Tom McFadzean.
Frank was born in Saskatoon, Saskatchewan in 1934. He credited the Salvation Army Band for keeping him on a (somewhat) straight and narrow path during his younger years. He went to the University of Saskatchewan and played trumpet in his dad's band to help pay his way. It was at University that he and Marj met. After graduation and a whirlwind romance, Marj and Frank were married and drove across the country to Ottawa to continue their story. Marjie will tell you it was her car they drove, but if Frankie were still here, he'd quickly point out it was his engine in that car. Upon arrival in Ottawa, Frank started his career as a Civil Engineer with the Geodetic Survey Division of Energy Mines and Resources. Before settling into a management position, he spent several fun years working with geodetic survey crews, travelling between Canada's East and West coasts and into its northern territories. Although their friends appropriately called Marjie and Frankie Mr. and Mrs. 'Bicker-ton', they enjoyed decades of hijinks, love and laughter, and Frank always held a captive audience sharing their stories with his children and grandchildren.
Frank was a fickle hobbyist over the years. Cactus cultivation, baking and cooking, guppy breeding, woodworking, boating, model airplanes and framing art work were among his many interests. Yes, we dare say, Cranky Frankie was a modern-day Renaissance man. He approached these interests with a regime only an Engineer could understand (or feel necessary), keeping meticulous inventories of feeding and watering schedules, ingredients, supplies and equipment. Frank was also an avid sports enthusiast who held high expectations for the Saskatchewan Rough Riders, the Chicago Blackhawks and the Ottawa Senators. He tolerated family members inclined to wear a Toronto Maple Leaf jersey, but only very, very reluctantly. He also fancied himself as a bit of an athlete – a strong swimmer, a hot-headed golfer, a great curler and squash player, and a very poor skier. He had an absurd sense of humour which, unbeknownst to him, was often inappropriate. He was flippant in his use of vocabulary, and this resulted in several hilarious and awkward verbal missteps, which his family dubbed "Frankisms." To his family's absolute and utter delight, he became a voracious and vocal back-seat driver in his twilight years.
Frank bestowed upon his children a sense of adventure, regularly packing up the family for cross-country camping trips, in the red and white cargo van which he converted and customized himself. Frank also bestowed on his children a respect (and fear of God) for energy conservation and car maintenance. The family home still echoes with his bellowing, "who left the frick'in light on," "close the G.D. fridge door," "when was the last time you checked the oil," and "weren't you watching the temperature gauge?"
There was no need to knock before entering the family home, and all who dared enter, would be greeted warmly by Frank with a, "What do you want?" Ahhh….but this was all false bravado. His heart melted with the first drop of a tear. He could not stand to see a human or animal suffer. He was generous, to a fault, with his time, home and deep pockets. He provided a safe place to land for all of his children and grandchildren (and their friends), whenever tough times arose, during times of celebration and while they pursued their post-secondary goals. There was always cold beer and food in the fridge, a listening ear and a shoulder to lean on.
If Frank could say one last thing to his friends and family, it would be "Let your conscience be your guide. Luv U."
Frank sang rare and high praises for his Oncologists, Dr. Bence-Bruckler and Dr. Altouri, and his family doctor, Dr. John. His family extends its sincere gratitude to them for their compassionate care. For those wishing to do so, donations can be made in Frank's memory to the Salvation Army or to organizations that help those with dementia, cancer, spinal cord injuries, cerebral palsy or Crohn's Disease.
Frank, in his many roles, will be dearly, dearly missed by family and friends. Many good ones have gone before him, and his family takes comfort that he is in good company, likely on a boat somewhere warm, sipping a cold beer.
Friends and family are cordially invited to celebrate Frank's life on Saturday, February 8, 2020, at the Nepean Sailing Club (Harbour Hall, 3259 Carling Ave, Nepean, ON), from 1:00 PM to 4:00 PM.