A quick review and information for the Gananoque marina. And then the story of our daughter and son-in-law joining us for the next part of our adventure.
They meet us at the Gananoque Marina and we stay the night. Timing was perfect, we needed to get some supplies, pump out and recharge both sets of batteries.
Gananoque Municipal Marina
385 seasonal and transient slips
washrooms and showers
laundry facilities
pump-out
there is no diesel or gas here. You will need to go to: Clark's Marina, Brennan Marine, Kingston Marina.
Website: https://www.gananoque.ca/community-services/parks-and-recreation/municipal-marina
Google maps: https://goo.gl/maps/Ba2V2XhNKCx45Ujo8
Reservation: Fill out form on website above
Phone: +1 613 382-4088 ?
VHF: Channel 68 ?
They really want you to fill out the online form, even if you call them directly. I suggest doing this several days before arrival as they do book up fast and it takes a bit for them to respond.
VHF Channel 68 is just an assumption since most other marinas respond on this channel. Never tried hailing them on 68.
My thoughts on Gananoque Marina
When we brought our previous boat into Gananoque harbour for the first time I was so excited, we finally got to see the other side of the shoreline. We became one of those boaters we envied so much from the dock. But that trip ruined it for me. It was my first time in a busy marina. It was the long weekend and it was packed with rude and aggressive boaters. You can read about that experience here: First trip to Gananoque Marina.
This trip was better. Yes, it was still busy but I felt much more comfortable navigating the chaos this time. I'm still not a fan, the location is perfect for the Thousand Islands but it feels like living in a busy city. I would much rather be on the hook near an island or in a smaller marina.
The North-East corner of the marina will be crazy. You have a lot of things going on there: boats drifting waiting for pump out, power boats being launched from the public boat ramp, first time captains bringing their houseboats in to sightsee, boats lining up to access the the public docks, and groups of kayaks paddling about. On top of all this, the 350 – 500 passenger ferries will be coming and going.
Picture below looks calm at the end of the day, but it feels like a maze when you are on the docks and the water is busy throughout the day.
It was expensive! $120 for the night with a pumpout and if you didn't time it right you would be in a long line up of boats hovering in the bay waiting for the pumpout.
Pro Tip: The pumpout is busy right at opening and then later at 10am as the late risers get ready to leave. Try to find a time in between.
That's the public dock on the East side of the marina early in the morning, it will be packed later.
Town of Gananoque
That's enough of me bashing the busy marina, Gananoque is a beautiful tourist town in the summer. Lots of great restaurants and picturesque walks among the historic buildings. We fell in love with with this area when we first visited a long time ago. Our favourite restaurant was the Socialist Pig right across from the large park with the pavilion and piano in the center of town.
They had the best fish tacos.
And yes, speaking past tense. Unfortunately, this place no longer exists but there is now a really nice brewery right next door. We still really like Gananoque, we just now try and find the quieter parts.
Back to our Thousand Islands story
OK, main purpose of the day was to pick up our daughter and son-in-law and continue our sailing trip into the Thousand Islands!
We woke up at anchorage near Beaurivage Island. We see that one of the boats had now swung uncomfortably close. Still lots of room, but I'm still trying to get comfortable with being so close!
The morning was spent mostly in the water swimming between ours and our friend's boat.
That afternoon we raised anchor and saw a CS36 Traditional arrive, Silk Purse. Wanted to say hi but we were on our way Gananoque. We had a slip reserved at Gananoque Marina for the night. Our friends had a vehicle there and we were successful in replenishing our food and beer supplies.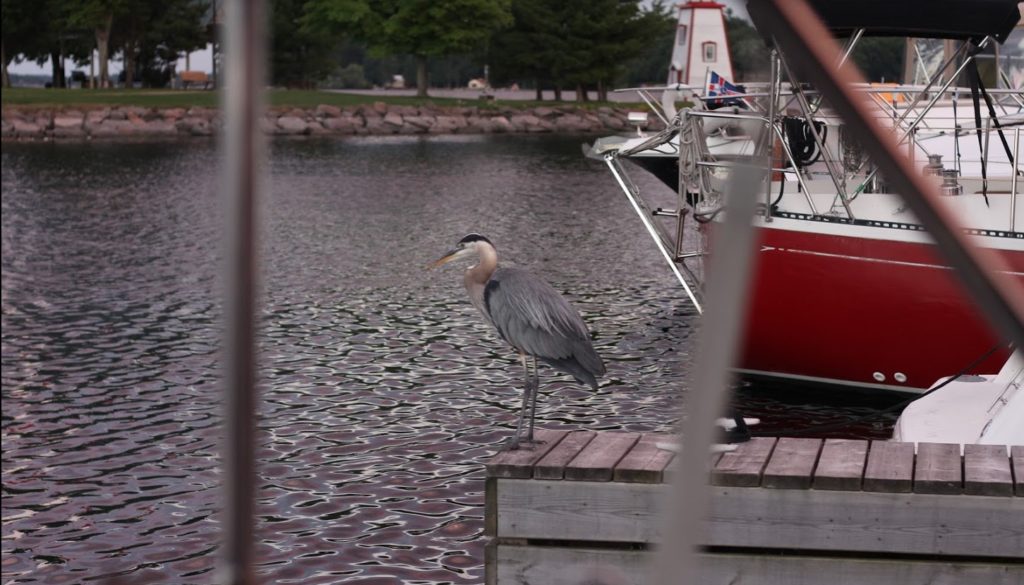 A heron visited us for a bit. Also take note of that red hull. You will see that again later in our trip.
That night, our daughter and son-in law arrived. It is a little tight with five on board our boat, but we don't care. While looking for extra space to store things we discovered the formed fiberglass tubs in our v-birth are removable and an OK spot to hold extra alcohol if it's not too bouncy!
These Nutrl flavoured soda is what the kids are drinking these days. They were surprisingly good, not that sweet and refreshing with 5% alcohol hidden in there.
That night we did a dock walk, with masks on, to check out the other boats. We are slowly working on my daughter to become a sailor. She had a terrible first experience in our last boat and now we are trying to win her back over.
We are all excited, tomorrow we leave Gananoque and head back to the Thousand Islands!