Every year there's always something that makes our plans more complex than they need to be. This year, we are changing our haul out location.
We received an e-mail from Wiggers, the channel leading up to their lift out has not been dredged and depth is currently less than five feet and dropping. We've been thinking about moving east and this accelerated our plans. We discovered Loyalist Cove Marina in Bath, Ontario and secured a winter spot for Foggy.
Complicated logistics
Here's the dilemma. The cradle and pads for Foggy are located at Wiggers in Bowmanville. Foggy is still at her home port of Cobourg and we need to get both the cradle and Foggy to her new haul out location in Bath, Ontario. On top of this we need to unload the boat and store everything at our home in Peterborough.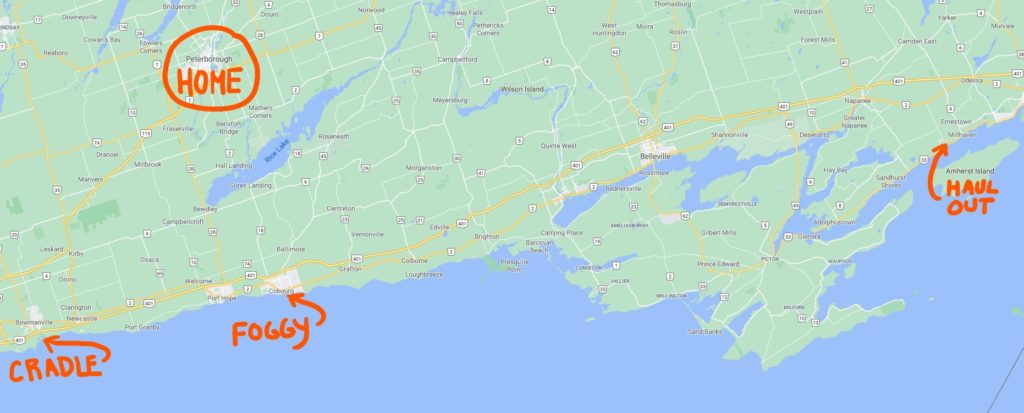 Distances
Home to Cobourg = 57 km
Home to Bowmanville = 65 km
Home to Bath = 164 km
Bowmanville to Cobourg = 46 km
Cobourg to Bath = 132 km
The equipment, resources, locations and restrictions
Two vehicles at home, but one is needed by our son while we are away. However, we can ask our son to use the second vehicle to drop or pick us up from anywhere.
Cradle is in Bowmanville.
Sailboat is in Cobourg.
Rental vehicle can be picked up or dropped off in any location.
Both Lori and I are taking the boat and both can drive either vehicle or the rental truck.
Only one person is needed to load the cradle, Wiggers will help load. Not sure about unloading, may want both of us there to unload.
Liftout is in Bath, but the cradle needs to be there before we can Liftout.
The sailboat is full of gear that needs to be removed for winter. Both vehicles are not big enough to hold, need to use a rental vehicle to transport gear from Bath to Peterborough. This can be done before or after haul out.
Stop here, if you enjoy solving puzzles on your own. When you are ready, go to the next page to see our proposed solution. Either way, we would like to hear your solution or suggestions on how we could make this easier on ourselves!