All of our kids are gone and we are now alone, drifting on our boat in the Thousand Islands. How are we going to get along?
The complex planning
We sat down and came up with the following very detailed sail plan. We generally don't like to make plans too far in the future as we prefer to see where the wind blows us. But we had to start thinking of getting ourselves back toward Cobourg. And yes, our planning is just as detailed as my map drawing skills.
Just a few rough thoughts of places to go: Brakey Bay, Waupoos Winery or Duck Island? Also to consider: weather forecasts and refueling and provisioning along the way.
Date: July 28, 2020
Distance: Approx 28 NM
Total Time: Approx 6 hours
Weather: Overcast and raining in morning, Light winds from East increasing then switching to strong South West winds
With the wind coming in a favourable direction we decide to start heading back. The winds typically come from the South West but today they were coming from the East, so we go with the wind and head West. The weather was supposed to pick up so we decided to take the more sheltered route through the Bateau Channel.
We raised the sails at this point and turned off the engine and gently cruised through the channel. Maybe not having guests made us too relaxed and we made a few minor mistakes:
Tacked through a narrow section not realizing there was another sailboat right behind us motoring. Sorry! Wasn't close and we technically had right of way, but if I was looking we would have delayed our tack by a bit.
Didn't notice the cable car ferry until after it was under way. Again, not close but would have rather steered farther away if I noticed it earlier.
One shoal marker snuck up on us; we steered clear in time but closer than I like.
There is some crazy money in this area. Check out this beauty power boat.
Some huge and beautiful houses with large docks, big enough for several sailboats!
Then there is this nice summer getaway with power boat and helicopter on the dock. I wish I could just afford the cool deck above their dock!
As the wind started to pick up, we practiced reefing and started feeling more confident making quick adjustments to our main sail. Our mainsail looked nice and flat with first and second reefs, whereas before it was baggy and I was never happy with it. Our destination was directly upwind from us but we decided to beat it out and practice our tacking. We are no where close to racing team level but getting better.
As we left the Bateau Channel, we had to make a choice to head back East towards Brakey Bay or continue West (2). We decided to take down the sails and motor West directly into the wind. There were two spots we were thinking of, one was between Simcoe and Wolfe Island. As we secured our sail Lori was looking like a pro! Here she is modeling her new TeamO lifejacket. OK, she wasn't posing, she was just putting the sail ties back on, but the picture turned out that way.
After exploring a spot near Horseshoe Island, between Simcoe Island and Wolfe Island (3). We decided to head back up to the North side of Simcoe (4) since the wind was now coming directly from the South.
It turned out to be a great spot. There were a few boats anchored when we arrived, including a few go-fast / cigarette boats with their music cranked. It was good music and we enjoyed it. It was one of the best swimming spots and had great holding.
Times like this I really wish spearfishing was allowed in the lakes! One day, we will find ourselves in a spot down south where we can finally try it!
Later that night, all of our neighbours headed back to Kingston, and we were there alone.
This of course immediately made us think, "Is there something they know that we don't?!". The weather settled down and we were treated to a beautiful sunset.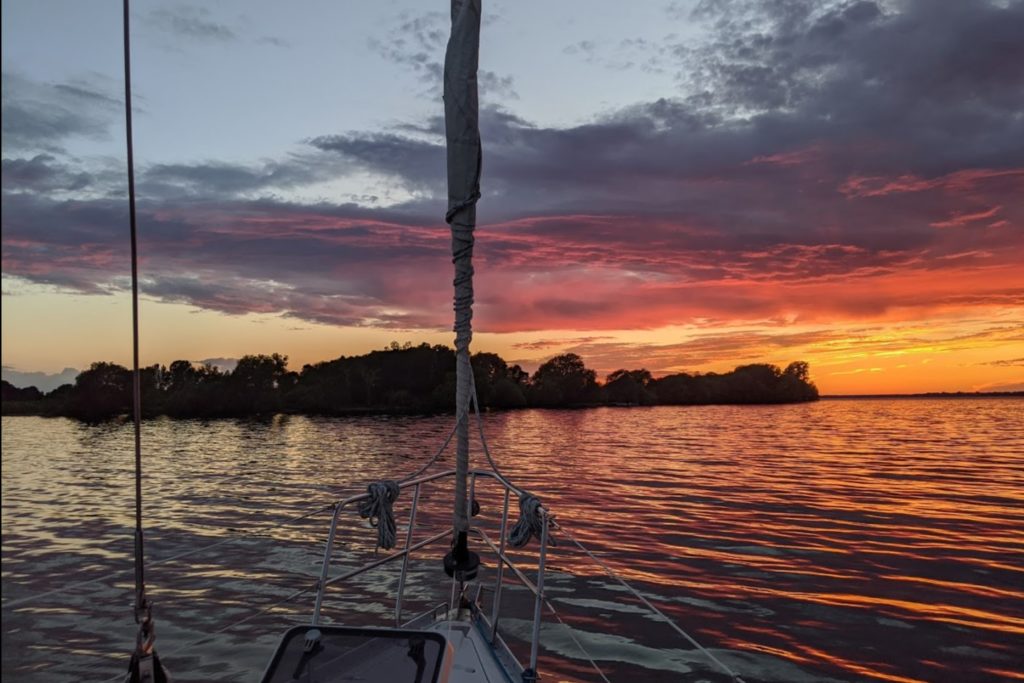 It was a calm quiet location with a view of the Kingston lights.
Other than a few minor mix-ups along the way we had a great first day on the water by ourselves. I don't recall us having any fights or differences of opinion on when or how to set the sails. Yes, we sometimes fight and yell at each other. We agreed a while back to just let 'er rip and say what's on our mind to get it out. And then once we drop anchor all is forgiven. But this didn't happen during this leg of this trip; it felt like we had got over our storming phase of sailing together and had hit our groove… then the storms came.
Next story from this trip: I'm no longer allowed to make judgement calls about the weather