We leave Amsterdam, New York and complete the New York State Canal system entering the Hudson River.
Saturday, September 23
We left Amsterdam early Saturday morning with Ken and Jay. The Mohawk River makes up much of the Erie Canal and we noticed it widening as we got closer to the Hudson. We were encountering deadheads more frequently than the previous days, and these required a close watch. It was a chilly day and both Shane and I ended up in foul weather gear to stay warm. We passed through locks 10 to 7 keeping a close eye out for debris, but still hit what sounded like a log. (Happy to report we seemed to have finally mastered the locks – yay!). We stopped for the night on a free wall on the west side of Guard Gate 2, past the town of Vischer Ferry. From what I could find online, this guard gate helps control the water flow through locks 6 to 2 and protects the town of Waterford in the event of a breach in the canal wall. The gate closed overnight, then opened again in the morning.
On Sunday morning, we hailed the lockmaster at lock 6, and shortly after started our descent down locks 6 to 2, which gently delivered us about 170 feet towards sea level to the lovely town of Waterford. We arrived to live music and the weekly farmer's marker and were happy to see some of the folks we had met along the way.
It was a busy dock, but as we arrived a large power yacht pulled away, leaving room for both our boats. Waterford's floating dock has electricity and water. Waterford does ask for a donation to stay on its docks and charges an additional $5 for a key to the restrooms and showers. There is also a free wall just adjacent to the floating dock.
We had been a bit undecided about carrying on through the final lock on Monday and ultimately decided to stay in Waterford for one more day. We had brunch with Jay and Ken at Don and Paul's Cafe (great breakfast and great prices), then Shane and I went for a walk around Peebles Island, just a bridge-crossing away. It was a nice change to be amongst the trees on Peebles. We saw Bald Eagles and several deer, who could not have cared less that we were passing by. That night we reunited with Whisky and all had dinner together.
Tuesday morning, Shane and I said our goodbyes to Ken and Jay, who were travelling on a different timeline. (I couldn't find Whisky before we left.) We hoped to see them again further south. We pushed off around 8:30h as soon as the fog lifted, in the company of Nick, Stacy and Myla of Bellos. We descended lock 1 and got our first glimpse of the Hudson when the lock gates opened.
We were a bit nervous about the Hudson, as we had never sailed or motored in tidal waters on Foggy, but we only faced 1 knot currents against us and found it very manageable. We headed straight for Hop-O-Nose Marina in Catskills, which was about 6 or 7 hours away.
About one hour out from the marina, the silhouette of the Catskills appeared in the distance. Beautiful! We arrived at Hop-O-Nose around 15:30h. Hop-O-Nose was hopp'in (sorry – couldn't resist).
We were assigned a slip for the night, advised we'd be about third in line to have our mast stepped the next day, but were given no promises there would be room for us for a second night. Our slip was shared with another sailboat and we were a tight fit, with only about 1.5 feet to spare. Shane had to deal with an opposing and unfamiliar current when pulling in. We pulled off docking with the help of Matthew (of JUMA), who magically appeared when we needed him.
Bellos arrived shortly after us and had a much smoother docking (pros they are). Shortly after docking, we grabbed our Amazon packages from the marina office. This included our needed waterway guides and a replacement tablet.
Shane and I then walked up to an automotive shop to get some replacement light bulbs for our deck and steaming lights, which we wanted to to install while the mast was still down. On the way back to the marina, we were drawn to Captain Kidd's Inn for a couple of celebratory beers. (What were we celebrating? – making it this far I suppose…Shane and I have a low threshold for celebratory beers). Our delightful bartender, who was also the owner, shared his own humbling boating experiences along side our own.
Wednesday, September 27 was mast stepping day. Very exciting. We anticipated our turn would be around 11h. It was a cold morning – about 6C and likely a bit colder in the boat under the water line. The temperature made it hard to spread peanut butter, never mind undoing the knots with cold fingers that were holding our mast tight to the boat's deck. We got the mast untied before we were called to the stepping dock, but did leave one ratchet strap on for safety until it was attached to the crane. We motored over to our dock, but another boat was having difficulty and was still in our stepping slip. We were asked to pull into a different slip and wait, which required, to my horror, a port side tie-up. I started scrambling to move lines and fenders to port, but then it was decided we'd back into the slip. We never back into slips. We don't have bow thrusters. Backing in, I threw the spring line to one of the staff, then went running for the bow line when I hear, "no throw us the stern line." I did a 180-turn to run for the stern line, got clotheslined by the sole ratchet strap still in place, went airborne (without a stumble or chance for recovery) and landed on the boat deck. I was okay, but the rest of the day was spent re-living the moment, flip-flopping between cringing and laughing. The mast went up without too much trouble and we returned to our slip, which was thankfully available for another night. We spent the rest of the day getting our boom, sails and stack pack back on, running our lines aft and adjusting our shrouds and lazy jack lines.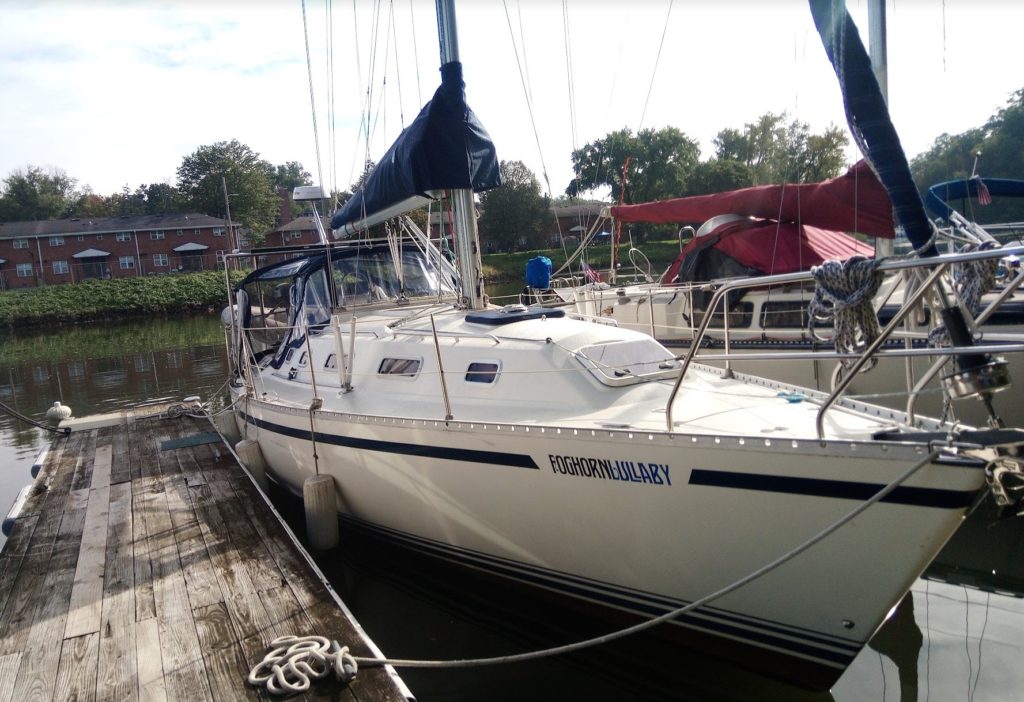 I woke up the next day a bit sore from my swan dive. We spent the early hours of the next morning, re-installing our radar, filling our water and diesel tanks and we left Hop-O-Nose, with some anchoring locations wisely bestowed upon us by Hop-O-Nose's Rocko. There was a very good weather window coming up to make the unprotected passage from New York City to Cape May, so we wanted to push forward somewhat consistently. Despite the push, the widening of the Hudson River and its wilder rugged appearance, as we travelled down, did not escape us. The Hudson is gorgeous and a force. We passed shoreline densely tree'd, peppered with towns , cities, bridges, lighthouses and industry. The further we went, the larger the boats got. We did try to sail, but the wind was dismal, there was a current against us, and we wanted to be anchored before nightfall.
As the day went on, the weather became a bit unkind, and we noticed some dramatic surging on the tachometer. We started calling various marinas to see if anyone had a mechanic who could give us a hand on short-notice. Chaz, available from White's Marina on the Hudson, answered the call. Unfortunately, we arrived at White's during low tide, so couldn't get into the protected cove of the marina. Don, the owner of White's, graciously let us tie up to the fuel dock for the night. It was rough, without protection, but we were safe. We planned to connect with Chaz the next day, but Shane still got to work trying to figure out our problem. Shane's just learning about diesel engines and I'm a bit useless on the subject. Our conversations sounded something like this: Shane – "Is this the fridge or starter battery? I'm just going to try switching this wire." Me – "Is that a good idea? Should I get the fire extinguisher? Want to eat first so we die with full bellies?" He did make some headway figuring out the alternator and our battery set-up, but we still went to bed with dampened spirits. Our moods weren't helped by the spanking the Hudson's gave us on that fuel dock. Total distance travelled today 40 NM.
Friday we untied from the fuel dock, deciding to test Shane's engine work. We updated Chaz. We were only about 20 minutes out, in rough weather, when Shane decided we needed to return to White's Marina for some professional help. We called Chaz and he was still willing to help out. We tied up to the fuel dock waiting where Chaz met us and quickly diagnosed a dying alternator. We moved into White's kind, calm cove at high tide, Chaz sourced a new alternator then installed it for us…all late on a Friday afternoon.
Bruises – no new ones that I can see.
Dents to the ego – 1 (swan dive)
Animals seen this week: bald eagles, blue herons, mallard ducks, common mergansers, Canadian geese, great white egrets, an American bittern (I think) and several deer.
September's budget – blown (new batteries, new alternator, new tablet)
Fun facts: Mal de Debarguement syndrome (MdDS), according to the Cleveland clinic, is a rare condition that makes you feel like you're moving when you're not. It can occur after disembarking from a boat or airplane (trains too I think). It's caused by your brain adapting to surroundings of unfamiliar movement (cool!). It is a real phenomenon, and one that we experience often (so not very rare); Shane and I call it 'the rollies.' I almost missed my chair at work once, after a week of sailing - he he