Sept 9: Loyalist Cove Ontario to Oswego New York
At 8:00am we leave Loyalist cove, not by boat, but by car. One of our boat buddies at Loyalist helped us out by driving me to Marine Outfitters for one last emergency purchase, zinc anodes. In fresh water we have magnesium anodes that are sacrificial, they are made to deteriorate rather than other important pieces of metal on your boat. Our magnesium anodes don't work in salt water and we will need all the corrosion protection we can get.
At 9:30am we leave Loyalist for a second time, this time by boat! It was a good day for a crossing. There was a nice breeze coming from the North West that would push us all the way to Oswego New York.
We make a quick stop near Big Sandy Bay to jump into the water with a hex key and a brand new zinc anode. It was a quick stop and we were on our way, again, towards Oswego. Now we had the right type of anode attached to our prop shaft that should serve us well in the salt water.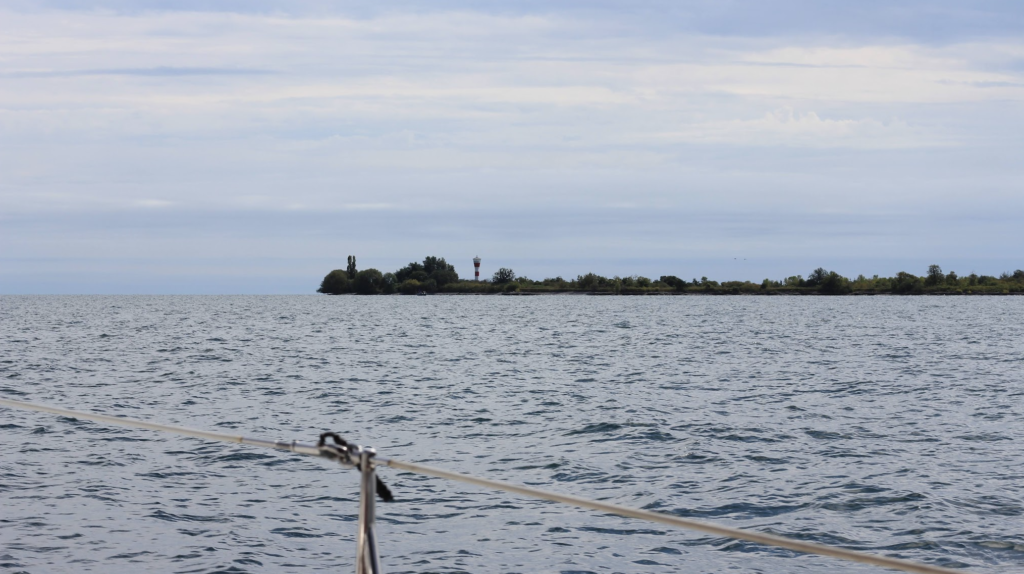 It was a great day for a sail. We were a bit rusty, with all the prep we didn't get many chances to actually use our boat!
We sailed until the last hour or two. A rain cloud came over and the wind died down.
We end up entering the harbour just as the sun set.
Track from the day.
We use the Customs and Border Patrol (CBP) ROAM app to check into the US. It failed on the tablet but worked on Lori's iPhone (yes she gloated about it). Easy process to answer a few questions over a video call with a border patrol officer. We now have a US cruising license for a year. It was a bit confusing on what we actually needed to keep to prove we were in the US legally but later found out (we walked up to the border patrol office to ask) that the e-mail is sufficient to travel. We will need to continue to use CBP ROAM to check in at each major city as we go.
September 10: Prep at Oswego Marina
We ran around and did a few errands found out that the Metro by T-Mobile shop was closed, even though Google Maps said the owner verified their hours four weeks ago to say they were open on Sundays. We checked out Verizon and found out their cards were not compatible with our cellular router so we decided to try again on Monday. Picked up some groceries from Price Chopper and a bit shocked at the prices.
We still have another two nights at Oswego Marina, need to continue to prep and figure out how we are going to support our mast on the deck of our boat.