We leave the marina, navigate NY harbour, do an overnight passage on the Atlantic Ocean and end up in the Chesapeake.
Saturday, September 30
Saturday was a cold and rainy morning that left me wishing I could harness my hot flashes into some sort of inferno super-power. We had time to kill waiting for the tide to rise at White's before we could clear the entrance. We made some breakfast wraps, topped up our water tanks, and had hot showers. Shane also started teaching me how to change the engine oil. However, the top of the pump popped off and I got oil all over me. So Shane finished the job while I got cleaned up and tried to scrub the oil from my pants. No luck, but now I have a pair of work pants and an excuse to buy some new ones.
The weather improved as the day went on and we were able to leave the marina in the afternoon. The day's trip was uneventful, which we welcomed. We anchored that night in Croton Bay, just past Haverstraw. Anchoring in tidal waters was another nervous first for us, and we hadn't yet replaced all of our anchor rode with chain. We worried for nothing; anchoring went well. The bay had great holding and protected us from wind coming from the North.
Wake-up time on Sunday morning was 5h (yuck). We don't have a windless (manual or electric) to haul up the anchor, so that's my job. With the help of the moon and a hand lamp, I pulled anchor, while Shane was at the helm. Today was a big day, as we planned to get to Sandy Hook, which meant passing through New York City's harbour. Things were getting real!
Around 8h we could see the hazy outline of the George Washington bridge and New York's cityscape. NYC's harbour was busy – tugs, ferries, barges, pleasure craft, ski-doos, tour boats, cruise ships and a darn sailing regatta! Shane white-knuckled it through and the highlight for me was most certainly passing the Statue of Liberty in our own boat. Shane couldn't divert his eyes long enough to take it in, so he was a bit disappointed. Maybe, just maybe, I'll be able to steer us through on our way home next year, and Shane can kick-back and enjoy.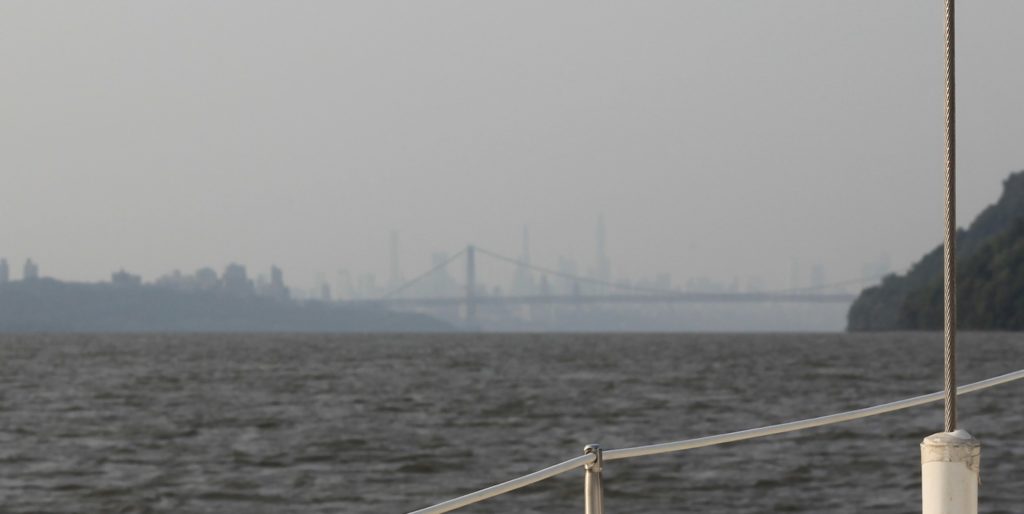 We arrived at Sandy Hook in the early evening, and shortly after, our good friends Dave and Regina arrived (Sailing Vitae). We've known Dave and Regina for years and we all took our Sail Canada keel boat course together about 10 years ago. Dave and Regina left home in June of this year and travelled down the St. Lawrence River and along the East coast. We knew we'd meet up at some point, but did not think it would be by Sandy Hook. However, they got delayed due to bad weather, so in Sandy Hook we met! We got caught up over a couple of drinks, before calling it an early night. Dave and Regina keep a beautifully written blog that chronicles their trip (sailingvitae.ca).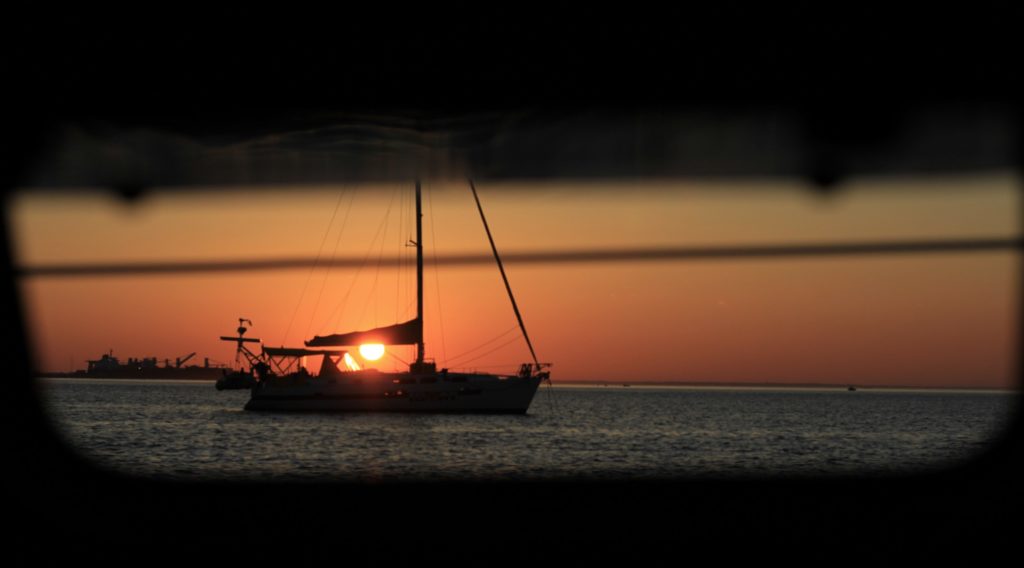 Monday's forecast was still favourable for the passage from Sandy Hook to Cape May, so most of the boats were up bright and early. This stretch can be done in one overnight passage, or with a stop-over (or two). We left in the morning, unsure what we'd do. As we rounded Sandy Hook we saw our first pod of dolphins! They followed the boat for a while, before moving on. We were delighted. The sunrise was beautiful. The bell buoys were clanging in the swell. As we progressed, the colour of the water turned from brown, to teal, to emerald green.
There was very little wind, but the sea was quite rolly, which did not agree with Shane's stomach. He had a couple of half doses of gravel and naps throughout the day to keep the retching at bay. So, I was surprised when around Atlantic City, where we could have anchored for the night, Shane said, "let's do an overnight passage." I agreed, but reluctantly; I was still feeling my way around using AIS and radar to monitor boat traffic, have terrible night vision and crappy spatial awareness! We turned off the motor and pulled out a sail and slowed our progress to avoid reaching Cape May in the dark. As soon as the sun went down, and Shane lost sight of the horizon, he got worse, so I did the first watch, waking him up when I wasn't quite sure what I was seeing. We had one close call with a tug towing a barge (on my watch), but otherwise the night went fairly well. In the end, Shane was able to rally and took a bit more than his share of hours on watch.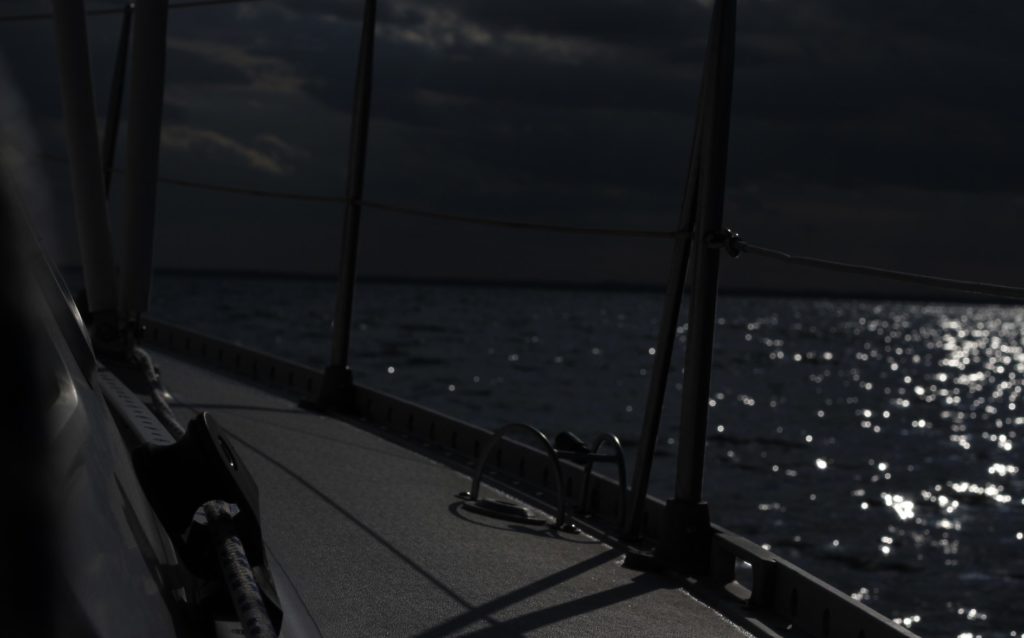 Not much to show from our nighttime passage, but the sunrise on the Atlantic was beautiful!
We arrived in Cape May around 7h and briefly saw Matthew of JUMA before he and Judy continued on. Shane and I anchored and slept a few hours. Our cupboards were getting bare, and we were out of beer (ack!), so we put the dinghy in the water and motored over to the Harbor View Restaurant for Happy Hour, or rather Happy Hours. We got there around 14h and it was packed, and we soon found out why. Beers were $3.50 and applies were half price. The food was delicious; we started with casino clams and buffalo wings. Later we each had chowder (Jersey chowder and the She crab soup) – it was so lick-your-bowl delicious, that we got two more orders to-go. The best part of this little excursion were the wonderful people we met – David and Bill who were sitting on either side of us at the bar and who's company we thoroughly enjoyed, our fantastic bartender Marj, and the lovely Liz who everyone at the bar knew and loved and who made us feel very welcome.
Wednesday morning was another early start, this time to take advantage of the currents and low tide. Our air draft (distance from the waterline to the tip of the mast) is about 49'. We wanted to take the 2 NM long Cape May canal to Delaware Bay, but needed to be sure we could fit under its fixed bridges. As we were entering the canal, a power yacht politely let us go first. The depth gauges on the bridges were reading between 52' and 54' at low tide, but it sure felt closer than that as we watched the mast clear the underside of the bridge. In hindsight, we were very grateful to that power boat, who likely knew his wake may have dangerously increased our height.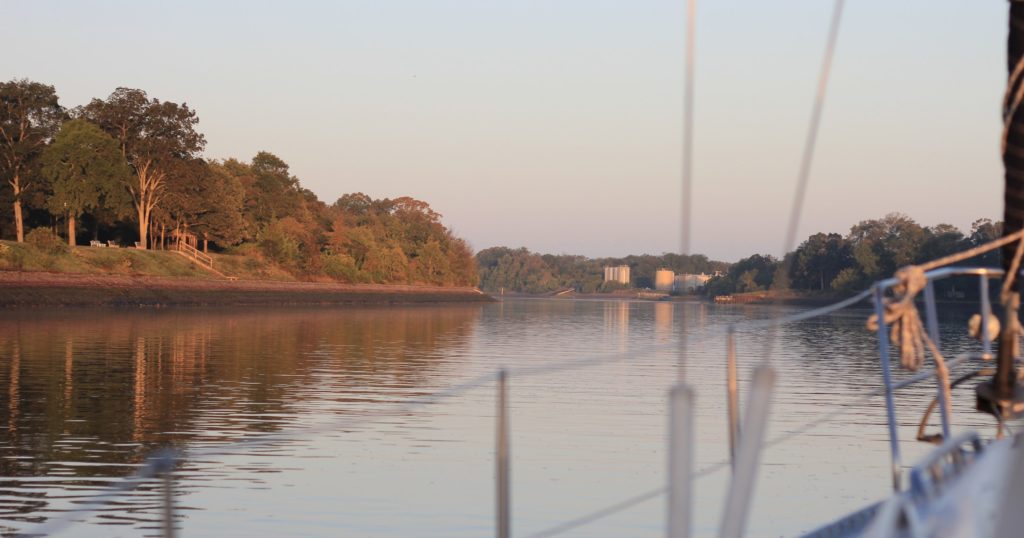 We entered Delaware Bay. It was calm and glassy.
One lone dolphin passed by us. There was no wind so we proceeded north up the bay under motor to the Delaware and Chesapeake Canal entrance. According to our Waterway Guide, this canal is the third busiest in the world. We monitored the VHF and heard the canal was closed due to fog. We were still hours away from the entrance, so hoped the fog would clear by the time we arrived. A few hours up the bay, we hit that fog and had to rely on radar, AIS and VHF chatter to 'see' what needed to be avoided. A container ship traveling south was expertly clearing his path, hailing boats by name and asking them to clear the shipping channel. We played it safe and travelled parallel to, but outside, the shipping channel. When this container ship passed, we saw it on AIS, heard its horn but could not even see a shadow of it.
The canal had re-opened when we reached its entrance at Reedy Point, so we were able to continue on to the Chesapeake Bay. All but one bridge had plenty of vertical height for us to pass, and the one that didn't (the ConRail bridge) was opened when we approached, but set to lower in 30 minutes. Lucky us.
We anchored for the night along side JUMA and Vitae at the mouth of the Bohemia River, on the Chesapeake, and had everyone over on Foggy for drinks.
The next morning, the plan was to all head to the Sassafras River. Shane had a pre-departure look at the engine and noticed the alternator belt was rubbing. Matthew (a retired Engineer who knows his stuff) offered to help. The fix was to realign the alternator a bit. It took longer than expected, as boat projects usually do, but Shane learned a lot and we were both grateful that Judy and Michael were generous with their time. Shane and I hung back a bit longer to deal with a problem with another problem with our head (i.e. our boat's toilet) vent. The silver lining to our hold-ups was that the wind picked up by the time we left, so we were able to sail most of the way to our next anchorage. Our dinghy's outboard motor is only 2.3 HP, so we had to travel deeper down the Sassafras than the others, anchoring just outside Georgetown's harbour, to provision. As we were arriving in Georgetown, Dave and Regina were leaving with bags full. We had a quick chat from our dinghies then we carried on our separate ways. We were able to beach our dinghy in Georgetown, then walk to Gelena (about 2 km away) for supplies. We made it back to our anchorage before dark and enjoyed a hot supper and the best darn apple cider I've ever had (Shoal Draft, brewed in Annapolis – with lime, molasses and ginger – yum).
Friday was spent at our Georgetown anchor, working on some small boat projects, trouble shooting some new found problems, lounging and playing Azul (I kicked Shane's butt). We plan to explore the Chesapeake for a while before continuing to the Intracoastal Waterway (ICW).
Bruises – at least six new ones
Animals seen this week: dolphins!
Fun fact: The average location of the salt line of the Hudson is around the Newburgh-Beacon bridge. We passed under this bridge on Saturday, officially entering salt water!