We took a break and stayed in the same spot next to Huckleberry Island and explored the area by dinghy.
Date: Tuesday, July 21, 2020
Distance: 0 NM
Weather: Calm, warm, partly cloudy
Batteries were getting low, the battery alarm was going off in the morning and decided to switch out the batteries since we had no plans or desire to run the engine. Once again we were wishing we had solar installed before this trip!
Owen wanted to spend the day at a friend's place in Gananoque and also get access to fast internet again! So we used our friend's dinghy to get into town. They have a nice hard bottom zodiac with a much more powerful motor than ours so it was a quick trip!
I have terrible memories of our first trip in Gananoque harbour, in 2016. I was scared and panicked about navigating through the harbour. It didn't seem as busy and scary as I remembered it.
Saw a really nice wooden sailboat, Tecumseh.
That afternoon we explored Leek / Thwartway Island by dinghy. The small dock on the south side was closed due to Covid. So we went around to the vacant South West corner of the island and swam off the point.
The Western bay of Leek Island was packed with rafted up powerboats. Music blasting, power generators running, big blow up floaties… it's funny the divide and personality differences between many power boaters and many sail boaters. I can't really knock it too much. I could have probably been a power boater in my 20s. And maybe I will be, in my 80s, when are no longer agile enough to sail anymore.
We spent most of the day swimming and lounging about. And of course I had to dive down on the anchor. The holding wasn't as good as Kerr Bay, but it was good enough. As you can see in the following video, there was no wind, the anchor ended up behind our boat.
That night we had a tasty Thai curry tofu dinner and enjoyed a beautiful sunset.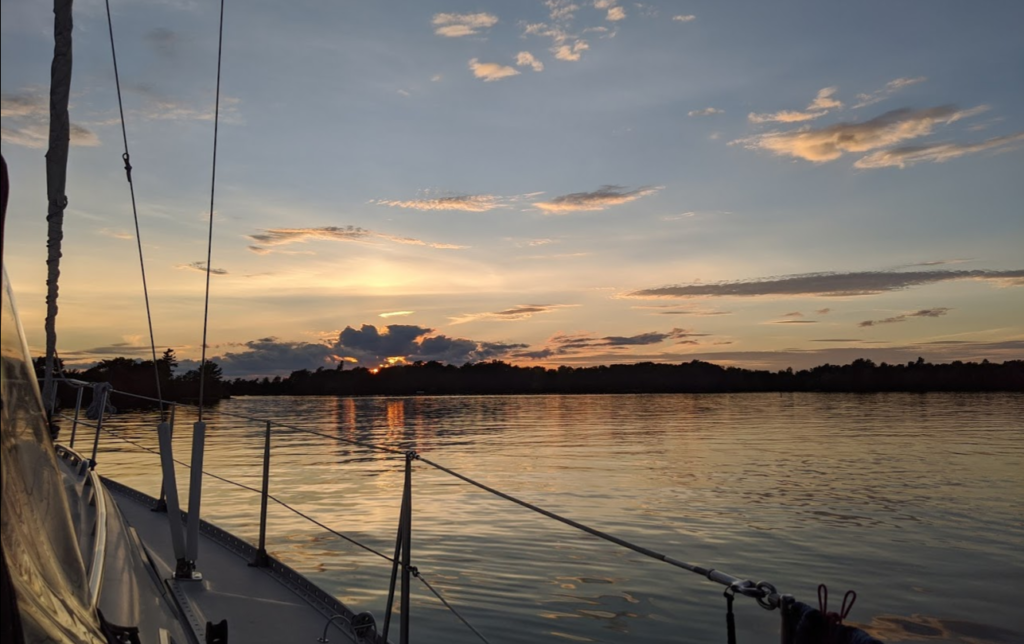 Holding tank: 25%
Water: 50%
Diesel: 50%
Electricity: 50% 
Food: Good supply left
Alcohol: Dangerously low
Phone data: 3.2GB / 5.0GB