It only took us a few years to get back to the place that made us want to sail in the first place. We were so excited to be back! It's beautiful.
Date: Monday, July 20, 2020
Distance: 27.4 NM
Total Time: 4 hours 32 minutes
Weather: SW moderate to strong wind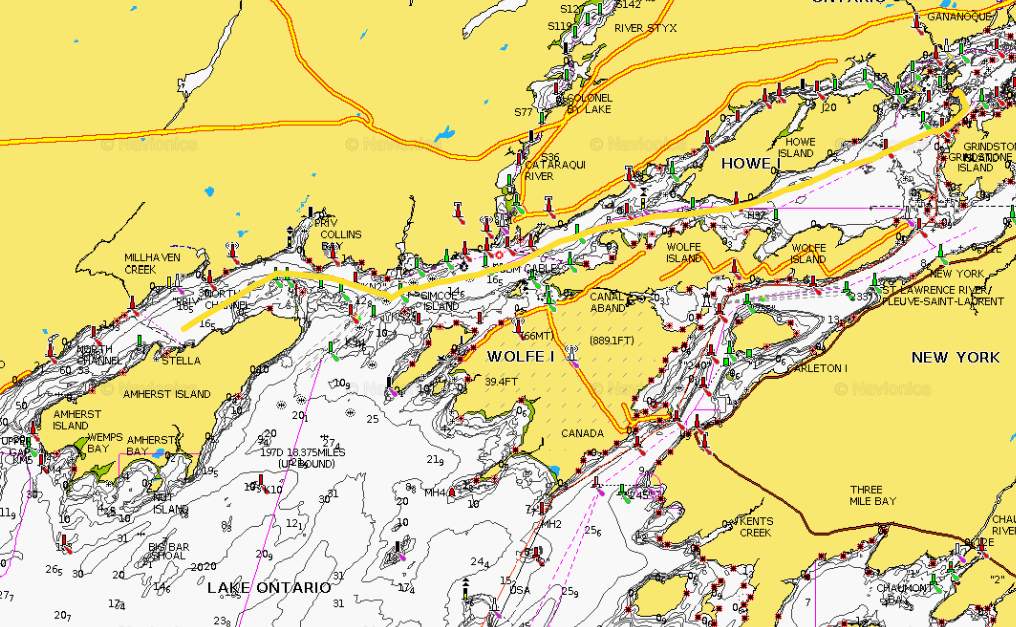 We lounged about a bit in the morning and pulled the anchor at 10:30 and headed towards the Thousands Islands. It was a beautiful day!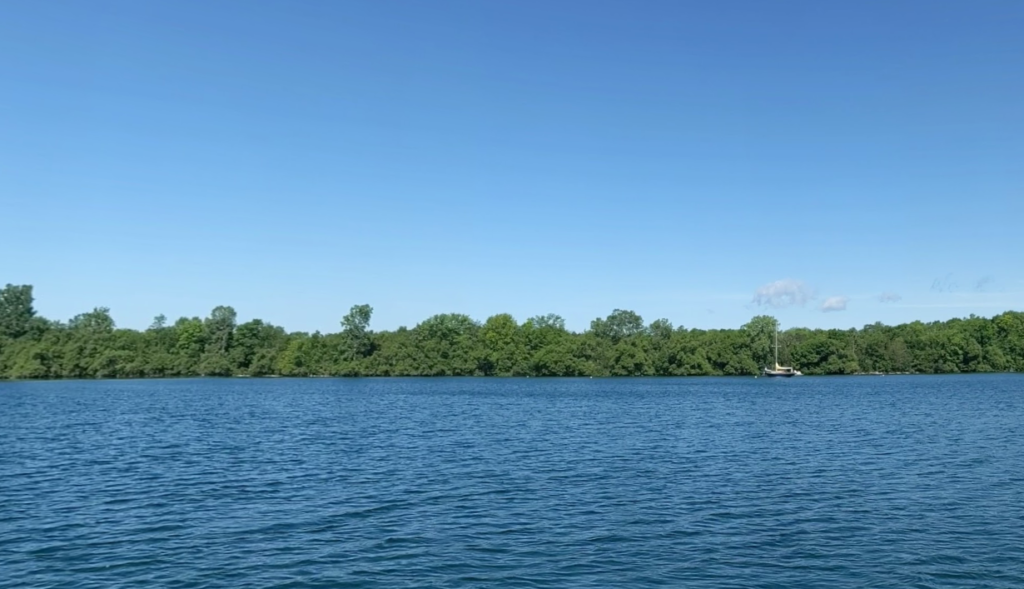 With no solar, we needed to run the engine for a bit so we motored the first hour. It was calm and we made use of our time to clean up the last remnants of the bug swarm from our cockpit. As we pass the smell of the birds on Brother Islands we leave the North Channel and enter the Lower Gap.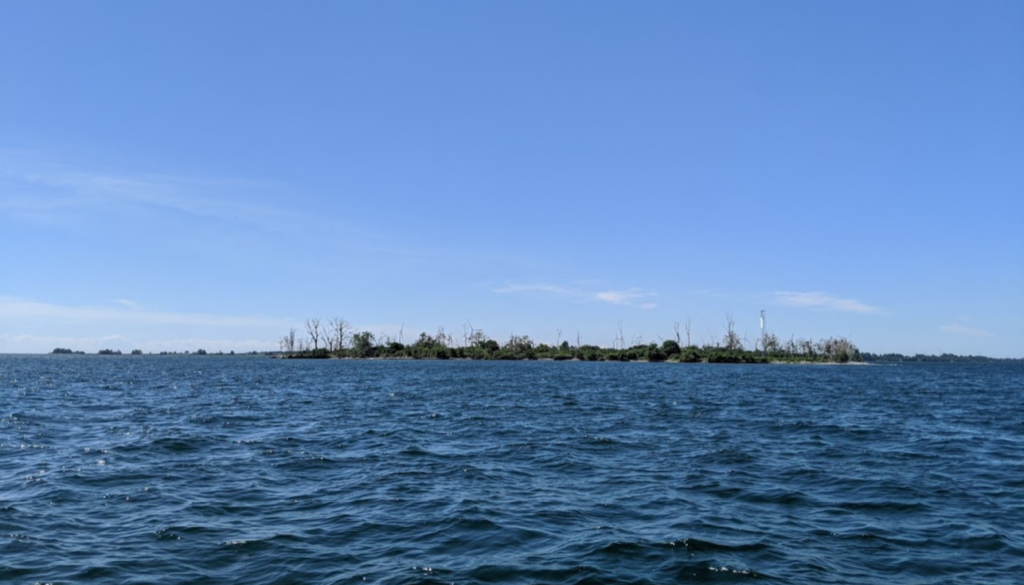 We are now exposed to lake Ontario, the winds picked up from the South West and it gets a bit choppy.
As a large Coast Guard vessel passes us we decide it's time to roll out only the Genoa and turn off the engine. Yes, we learned from our mistakes yesterday! However, maybe I should have had another coffee before we did this. we tried to only roll out 2/3 but the furling line took off and the entire genoa went out… right into our halyards still secured to the pushpit. Genoa sheets flapping, it's starting to wrap around the halyards and get tangled. Quickly turned up wind again and struggled to completely roll it up again. Then did it right, moved the halyards and wrapped furling line around winch to control the release better.
Sailed the rest of the trip with only the Genoa. We should have done this yesterday, so much smoother than both main and Genoa. Moved the genoa car forward to about 25% from the front and it seemed to provide a nice curl the the sail for this broad reach.
And then I heard the faint rumbling. Lori and I look at each other in panic. First thing we think of is the anchor! Then realize it's the prop. I forgot to put transmission in reverse to lock the prop.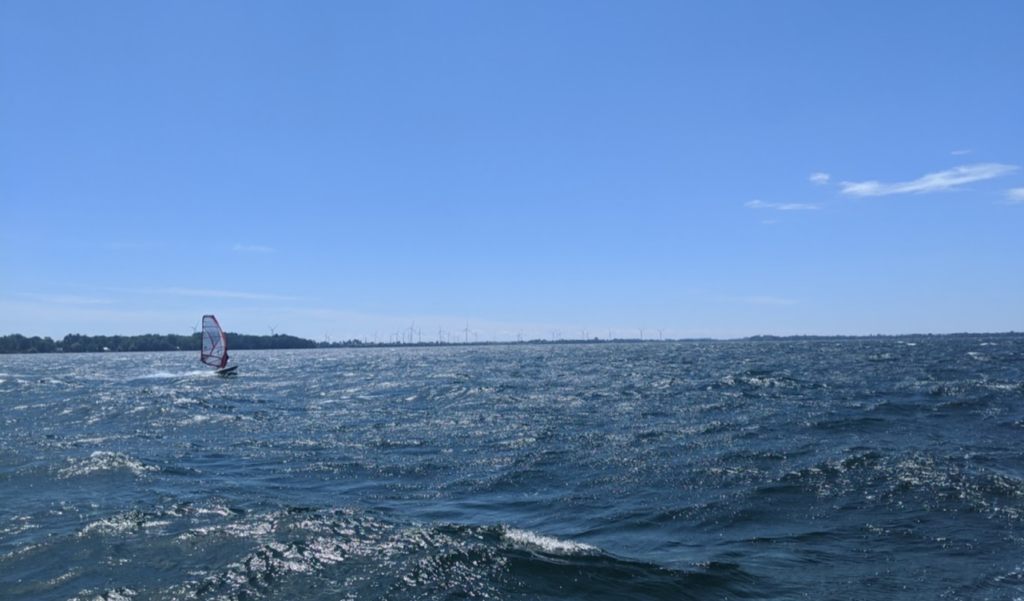 The waves start to diminish as we duck behind Wolfe Island. But the wind is still strong, the boats beating in the other direction are heeled right over.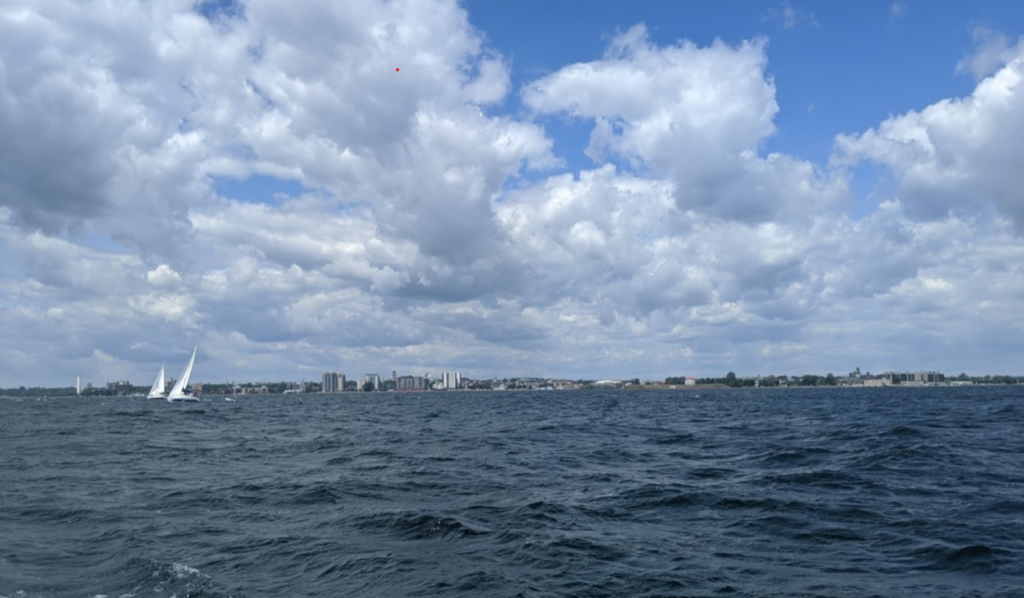 As we approached Leek Island a huge wind gust is blowing through the Canadian Middle Channel, giving us a strong push to over 8 knots. With rocks to port and mainland to starboard and nobody else on deck I called for help! We furled in a bit more of the genoa and was able to pass Leek Island at a comfortable and controlled 6 knots. One last jibe toward our anchoring spot and then turned on the engine as we prepared to anchor. OK, that wasn't smooth either. Jibe was sloppy and the genoa flopped about. And then when I started the engine, it was still in reverse. Uggh.
I look to the anchoring spot and see our friends in their CS40 sailboat were already anchored there along with a few other boats. I was nervous, we had to anchor close to other boats. Before, we read up on where to anchor and how to judge how each boat will swing differently depending on how long their anchor line (rode) is.
Lori and I had a quick conference on the fore deck pointing at random spots and then finally decided on one. We were cautious, and anchored on the outside edge as far away as we could. It was shallow, less than 15 feet. We quickly dropped the anchor. With 50′ out, I reversed and put a bit of pressure on the anchor but it started dragging to deeper water. We went back in again, this time put out 80′ and gave it a good solid tug in reverse and it had set.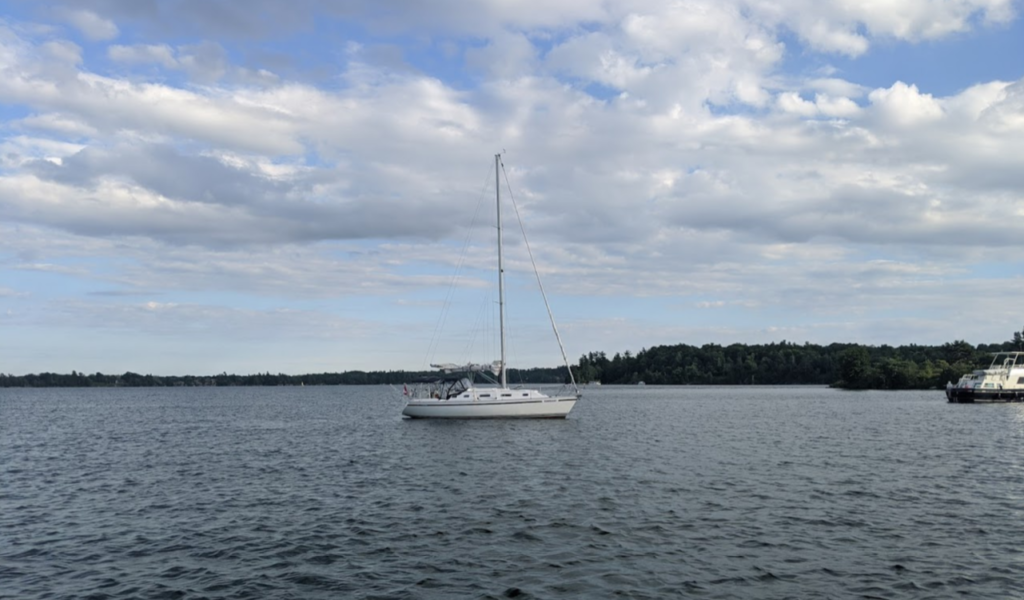 Great spot, many of the boats went home close to sunset and it was a calm beautiful night. We cooked up a delicious marinated chicken dinner on the BBQ. Later that night it calmed to a gentle breeze from north.
Of course, we had a swim. The water is beautiful and we are so happy to be back to the Thousand Islands!
Next story from this trip: Exploring Gananoque and Leek Island