We leave Sugar Island and end up on the dock at Camelot Island, we see a few old friends and meet some new ones, including another CS34 owner.
We looked around for some spots to anchor or free mooring balls around the Lake Fleet Islands within the Thousand Islands without luck. As we pass Camelot Island I decide to call up a friend we met last year, Elliot, and see where they were hanging out. Sure enough they were on the dock at Camelot and says there's a slip available for us, someone just left.
See our post about how we met Elliott last year on Camelot Island, including some pictures of the trails on the island and some fun drone footage of him on his powered surfboard. We also met Rob from a CS30 named Amadeus.
As we settle in, there's a zodiac pulling screaming kids around the back of the island. Later we find out that zodiac is owned by Jessie and manages to tow it behind their sailboat.
As we look at the boats on the dock, the one on the far right catches my eye.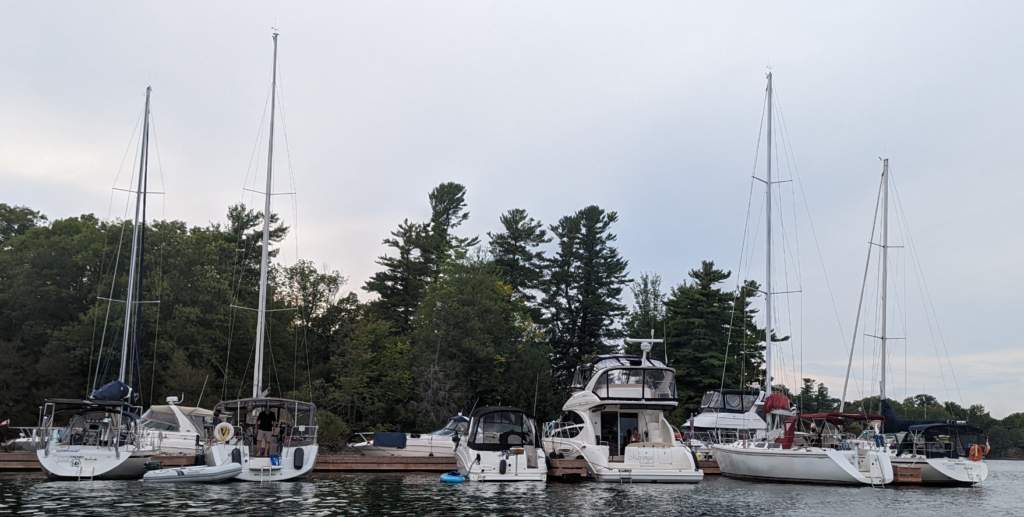 It's another CS34, I quickly introduce myself and find out the owner, Susan, spends most of the summer in the Thousand Islands with her kids. Of course we quickly walk through each other's boats. Always interesting to see the similarities and differences in our boats. Didn't get a good picture of her boat but here's Foggy at dock. Like to throw the dinghy up front to make it easier to swim off the back of the boat. There is no shore power here so no risk of electrical shock in the water.
Spent the night hanging out. Also met Jessie who owns the sailboat to the right with the powerful dingy. His wife works in Gananoque and wanted the power, and speed, to be able to commute. Not a bad life! Also found out Jessie's home is very close to the property we are going to build on. Right away Jessie says, don't worry, I got you covered for trades. He seems to know everyone in the area. It was an early night, I had to work again the next day. Unfortunately, that meant I didn't get that much time to visit. But we did go for a tour with Elliott and Susan to explore other possible places to anchor around Camelot and Endymion Island.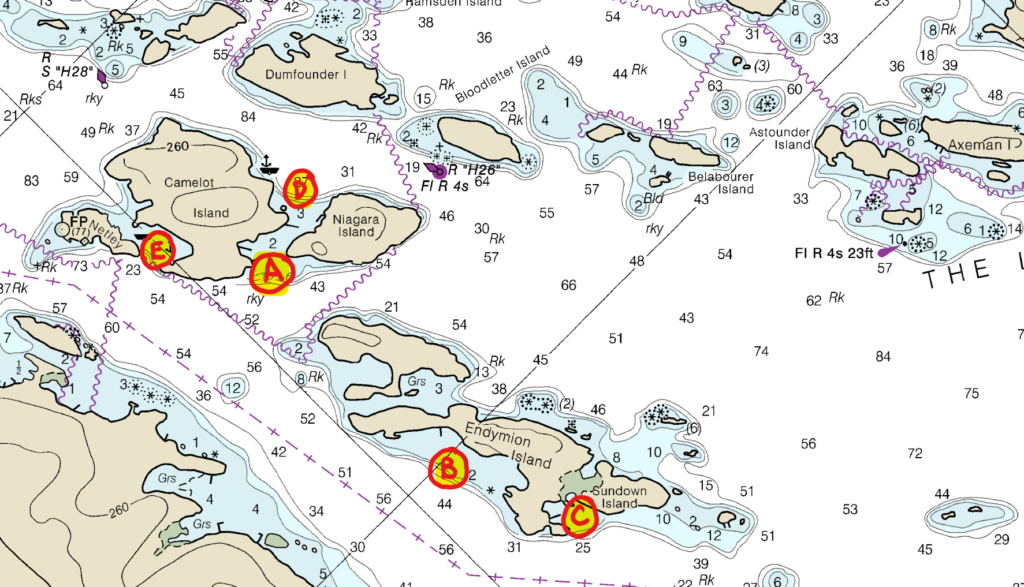 | | |
| --- | --- |
| A | Docks at Camelot Island – we've had no difficulties docking on any of the outside slips. Could possibly take inside slip but it could be sketchy. There are some old concrete blocks in the area I wouldn't want to hit. |
| B | Mooring Balls at Endymion Island – outer ones have depth, ones closer to island are too shallow for us. |
| C | Dock at East side of Endymion – it was barely over 5′ when we explored, we would most likely skim the bottom if we tried to dock here. |
| D | Mooring Balls at North Side of Camelot Island – close to 5′ the Eastern one appears to have a bit more depth. |
| E | Small Cove South West Camelot Island – I have seen sailboats in there but not sure about depths. |
Other than A and the outer mooring balls at C I would be very cautious of any of the other spots. Take a dinghy in and explore before risking a bump.
While exploring spots in Elliot's dinghy, we see a nice looking CS36 Merlin named Mystic 1.
Here's the North Side of Camelot Island. It has a few mooring balls but depth there was barely 5′. Nervous if winds shifted and if we swung around closer to island we may no longer have 5′. I spoke to the owner of this boat and I believe he said they draws less than us, can't recall what he said but it was less than 5′.
It was a different stopover from last year, it was too bad I had to work. But still best office in the world to be working from so I can't complain.