We continue South along the Chesapeake, avoid the boat show traffic and take some time outs in a few lovely towns.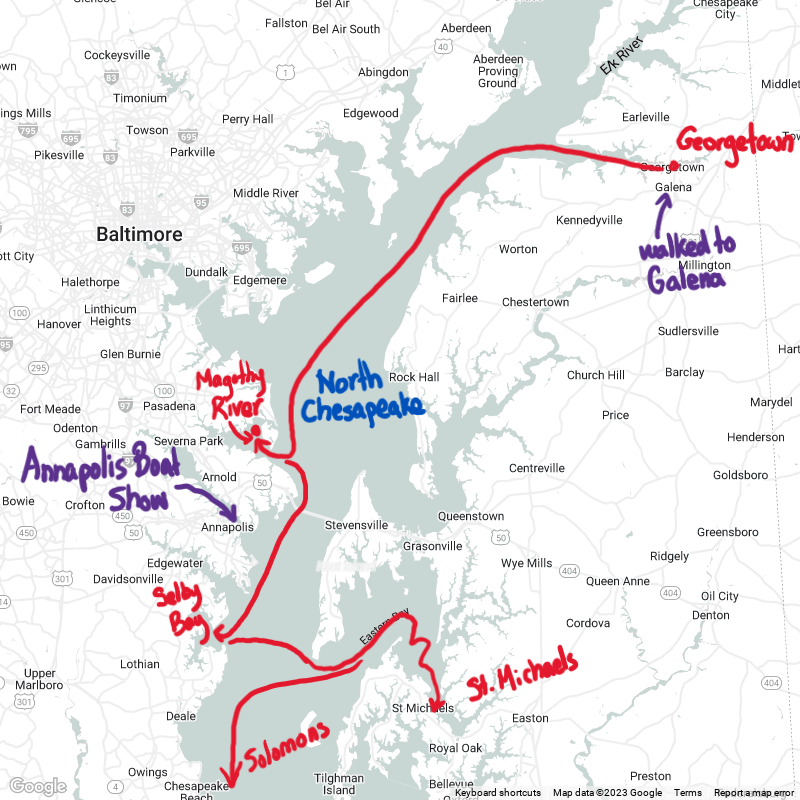 October 7, 2023
Saturday was spent lounging in Georgetown at anchor and working on the never ending list of boat projects and repairs.
Rough weather was forecasted for Sunday. We needed fuel, a pump out, laundry facilities and some water. We reserved a slip at the Granary Marina in Georgetown for the next night (pump out and fuel obtained from Granary's neighbouring marina). A slip at Granary meant we were going to dock to pilings for the first time (vs a floating dock). Shane spent 30 minutes on the phone with the dockmaster getting instructions about docking to pilings. Once off the phone, he told me we needed stern, bow and spring lines port side and bow and stern lines starboard. "What about fenders," I asked. "Yep-sure," he replied, "can't hurt." "And Lori," he said, " when I drive into the slip, lasso the port stern and bow lines over the pilings." "Mmm, hmm, okay Shane, Giddy-up."
We meant to leave our anchorage the next day before the wind picked up, but doddled too long and were inaugurated to the pilings in 15+ kn of wind. My lassos fell limp (who has this skill?!), and I ended up-bear hugging the pilings (a foot in diameter) with both arms and one leg to get the lines around. We got Foggy secured, but Shane was bleeding and I had an impressive splinter when all was said and done. Foggy was unscathed, but likely embarrassed. The fenders were useless. Our boat neighbours were entertained.
Our boat issues were accumulating (leaking hot water tank, continued electrical issues with the engine, clogging of the head vent, ongoing conversations with Raymarine about our YachtSense, etc). We spent some time working on these on Sunday, and hosed down our stinky mud-encased anchor chain, before heading over to the Granary's restaurant, a little seafood Thanksgiving treat to ourselves. Our kids were all together in Ottawa for Thanksgiving, so we headed back to the boat in the early evening for a family video call. We had a good catch up with Gavin and Owen (our sons). We also managed quick snip-its of catch-up from Bri and Riley (our daughter and son-in-law), as they ran after our 1.5 year old grandson, Auckland. It was lovely to see them all together for the weekend.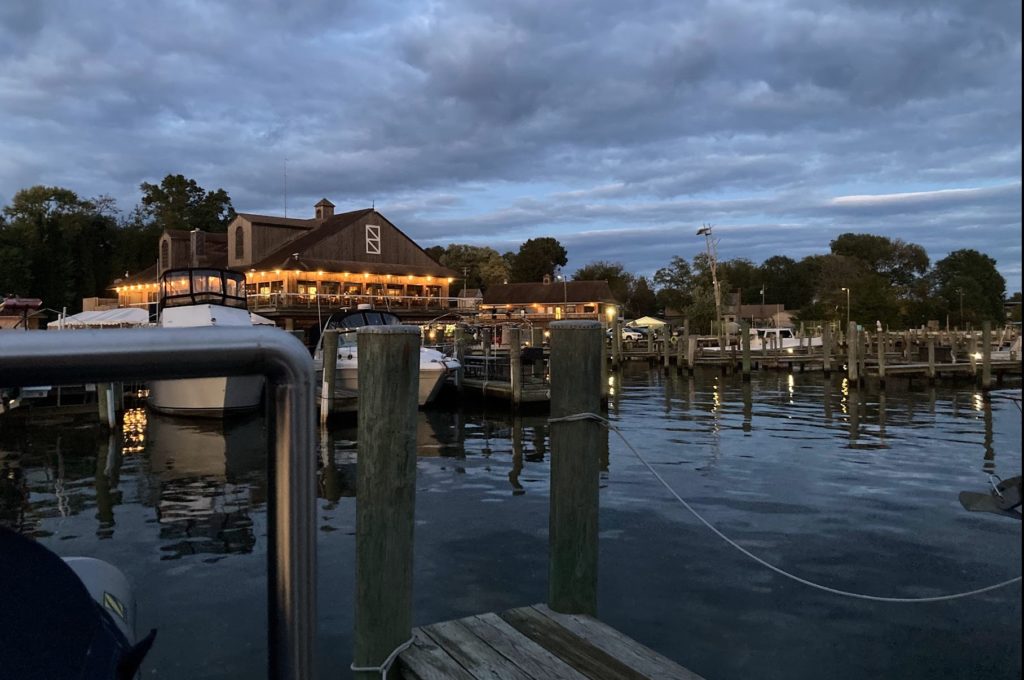 We got away a bit late the next day. Our exit from the dock wasn't any prettier than our arrival, but no blood was shed. Destination – back to the West shore to an anchorage Dave and Regina had stayed at on their way to the Annapolis boat show and recommended. The anchorage would give us protection we needed from some strong westerly winds forecasted. We hoisted our sails as we approached the mouth of the Sassafras and tacked our way back out into the Chesapeake. We had sustained winds of 13-15 knots, but unfortunately it was coming from behind us. We also noticed our main sail didn't look quite right (we'd figure out the problem in a few days). So, we doused the sails and continued under motor to make sure we got to our anchorage before dark. We anchored that night around Dobbins Island on the Magothy River. It started to rain just as we dropped the anchor, so we closed up the cockpit and had a cozy night in.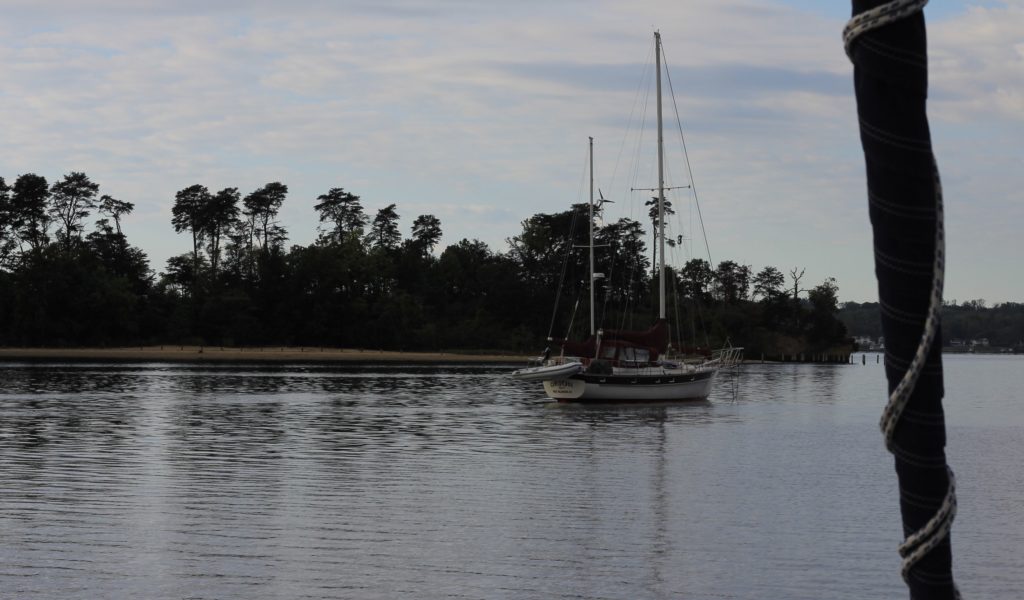 Shane and I acknowledged this trip would not be perfect before we left. We knew we'd have bad days. We'd be dealing with a barrage of boat issues (like all boaters with old boats do). We'd grate on each other's nerves and patience every now and then, living in a small space together 24/7. Tuesday, October 10th was a bad day. Our boat gremlins were growing in number. I was continuously having problems getting the anchor up from the Chesapeake's muddy floor, so more often than not, I'd have to call Shane to the bow to give me a hand. I had crawled into the lazarette a couple of days ago to try to fix the head vent myself, but didn't have the hand strength to pull the pipe from the vent nipple and had to once again defer a job to Shane. I was of no help trouble shooting our engine problems. I was frustrated with my own lack of knowledge and abilities. I was starting to feel like a passenger rather than a participant. We weren't in a particularly great mood during our quick 3 hour sail (17 NM) south to an anchorage in Selby's Bay, where we hoped to get out and stretch our legs on a nearby beach. We arrived close to supper to find that the beach was part of a park that closed to visitors at 17h. Shane and I had been snapping at each other all day. Our 34' boat was feeling way too small for the two of us. My attitude was awful. I gave myself a time-out and closed the door to the v-berth, and fell asleep shortly after. The next morning, I apologized to Shane and pulled my socks up.
The Annapolis Boat Show this year was taking place October 12-15. It's a hot destination for sailors, attracting tens of thousands of people. It would have made sense to make Annapolis one of our stop-overs around this point in our trip, but Shane and I had decided a few months ago to skip the crowds and visit Annapolis on our way back home next year. So, on Wednesday we headed back to the East shore one more time to spend a couple of days in St. Michaels. Our trip back across the Bay was warm and calm and the water was glassy, which was lovely, but also meant no wind to fill our sails. Other than a few rounds of "is that a bird or a crab pot," our trip was relaxing.
We had picked out a few possible anchorages, within a dinghy ride to town, and opted for one just outside of the harbour. On our first night, we took the dinghy into town and enjoyed delicious fried oysters and fish tacos, at the Carpenter Street Saloon and once again met some wonderful, welcoming local folks. We returned to the boat in the dark (a reminder that we need to get navigation lights for the dinghy).
The next morning we were bedazzled by a school of fish that seemed to have no beginning or end. The fish were silver and about 4-6" long. I checked some online field guides, but could not identify them. They would flip onto their sides every now and then, making the water light up. I have a video but it doesn't do what we saw justice.
The waters around St. Michaels were also full of stinging nettle jellyfish, which may not be much fun to swim with, but were mesmerizing to watch. During our time at here, we lounged on the boat enjoying the anchorage, but also spent several hours walking around town which is pretty as a post-card and goes all out with their Halloween decorations. We visited the East Shore Brewing Company. We perused shops. We even found a pharmacist to give us our flu shots. There is a maritime museum that we heard was quite good, but we didn't get there on time for a good walk through, so that's another destination added to our itinerary on our way home.
We had planned to stay in St. Michaels three days, but cut our stay at St. Michaels a day short because we were expecting strong winds from which our current anchorage would not provide protection. We decided to head back to the West shore, where we would continue our trek south down the Chesapeake. Shane got up before me and turned on the VHF radio (a new morning routine); we get a kick out of listening to the crabmen's radio banter in the morning, which includes anything from tides and weather, to food requests ("pick me up a bag of 100 oysters; I like some meat on them") to girlfriends (who they also like some meat on – their words not mine). We decided to head to Solomon's Island, anchor for one night, then treat ourselves to a marina slip for two days while the forecasted high winds blew. We needed some supplies from West Marine and there was one at Solomons. We had a great sail there. We also experimented and rigged up a drifter sail that was generously gifted to us by our sailing instructor Rob, but it was a bit small for our boat.
A nice couple, @saltybreezeadventures, connected with us through Instagram and sent us the above pic of us under sail (left). Thank you! We returned the favour and sent back a pic of their beautiful boat (right).
Our anchorage Friday night was in a very protected cove, called Pancake Point and was surrounded by houses. It felt a bit intrusive to be anchored there, but it seems to be a common occurrence in the Chesapeake. Anyway, I marvelled at the idea of having a cove in the Chesapeake for a backyard!
This week, we saw the highest ocean temperature yet (24.6 C), but haven't yet dove in. Despite set backs, we were reminded again and again of what an amazing bunch boaters are. Shane got advice trying to fix our electrical problems from Brian (a friend back home), Paul (who did our boat survey), Matthew (of JUMA), Dave (of Vitae) and Chaz (the mechanic who helped us on the Hudson). Brihana and Auckland often video call us while we're underway and I love showing Auckland what we are seeing at the time: big bridges, freighters, waves, bunnies munching on grass on our walk home from the grocery store – you name it. He's at such a fun age and a great little guy. By the way, Shane does plan to restart his own blog posts, which will be much more technical in nature than my own.
Bruises this week – forgot to count
Slivers – 1
Injury causing minor blood loss – 1
Animals seen this week: jelly fish (stinging nettles), massive school of fish (type?), bunnies and bald eagles
Fun fact: The Chesapeake is home to the Chesapeake cowboys - a group of boaters who participate in docking competitions. The competition circuit only takes place on the Chesapeake shores of Maryland and Virginia. Who can lasso a piling? They can! Check it out: https://chesapeakecowboys.wordpress.com